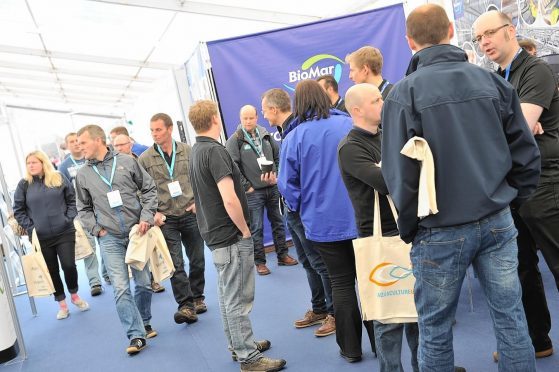 More than 130 exhibitors and about 1,000 visitors from 30 countries are in Aviemore for the Aquaculture UK 2016 event at Macdonald Aviemore Highland Resort.
Britain's biggest trade show and conference for the fish and shellfish farming industry kicked off yesterday and continues today.
Hot topics up for discussion include measures to protect farmed salmon from potentially deadly sea-lice, developments in fish genetics and growing international demand for Scottish farmed seaweed.
Held every two years, the event brings together exhibitors, leading scientists, companies, farmers and other experts, from around the world, showcasing the latest in aquaculture health, technology and innovation.
With more than 1,000 people through the door on the first day and a record number of exhibitors, organiser 5m Publishing is confident this year's event will be the biggest and most successful yet.
The seminar programme is much bigger than before, thanks to the addition of an extra conference tent.
5M publishing director Matt Colvan said: "The focus is on making sure the discussions reflect the most important issues relevant to this year's visitors.
"Our ground-breaking exhibition is recognised as the essential place to launch and promote new products, meet new customers, establish relationships with buyers and suppliers, and network with everyone from industry influencers to leading academics, hands-on researchers, government agencies and international journalists."
The opening day featured seminars on the latest developments in salmon breeding, fish health, biosecurity and sea-lice control.
And the Stirling University-based Scottish Aquaculture Innovation Centre held an interactive poll on the trade show floor to gather opinions on a new centre of excellence for the industry.
Former Barlinnie prison governor Robbie Glen was the after-dinner speaker at the Aquaculture UK 2016 gala dinner last night.
5m Publishing acquired Aquaculture UK last as part of a "strategic vision" of providing continues access to education, information and expertise for people working in the aquaculture, veterinary and global food supply chains.
According to official Scottish Government figures, Scotland's aquaculture sector is worth more than £1.75billion to the economy annually and supports about 8,000 jobs across the supply chain.