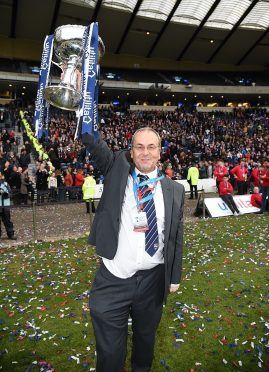 Scottish League Cup winners Ross County broke back into the black despite a fall in gate receipts and season ticket sales last year.
The football club edged back into profit in the year to the end of June 2015, turning around a £70,701 loss into a pre-tax profit of £21,914.
In the year before the Staggies lifted the cup in a historic 2-1 thriller against Hibernian at Hampden in March, turnover at Ross County Foot Ball Club (1998) had slumped 14% to £2.46million. The company said this was due to reduced income from the sport's governing bodies, as well as reduced gate receipts and season ticket income.
But the Dingwall club was able to benefit when a loan of £1.6million – owed to its parent company which was controlled by chairman Roy MacGregor – was forgiven. In the company's strategic report filed at Companies House, Mr MacGregor said the club "continued to make inroads into historic debt". In September, the outstanding balance on a bank loan with Bank of Scotland of £617,000 was "cleared by early repayment". This coincided with Mr MacGregor's firm, GEG Capital, advancing a loan of £469,996 which was converted into shares in the football club, making GEG the new owner of the club.
Mr MacGregor added: "The goal of the directors is to maintain a debt-free position while creating a sustainable, community-based model for future stability. To this end the short-term target is to remain the Premier division of the Scottish Professional Football League."