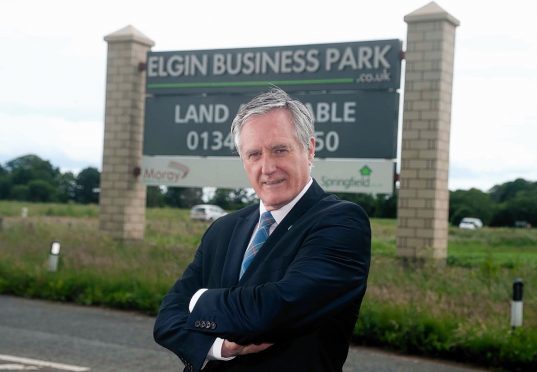 Moray Council is launching an ambitious bid to land its own "city deal" to fund a £12million industrial estate and generate thousands of new jobs.
The local authority has earmarked land at Barmuckity to the east of Elgin for a scheme it believes could create work for 4,000 people.
The project has been on the drawing board for more than a decade – but the council was forced to abandon it because of a shortage of cash.
Now its is aiming to revive the scheme and is preparing a bid to win City Region Deal funding from the Scottish and UK governments.
Earlier this year, Aberdeen and Aberdeen and Inverness won city deals worth hundreds of millions of pounds.
John Cowe, chairman of Moray Council's economic development and infrastructure services committee, said: "Quite honestly, we want a slice of that cake.
"It's something that's badly needed, because we are short of industrial ground to develop on.
"We can't expand the economy at the moment, which is our biggest priority."
He added: "When you look at it, Moray punches way above its weight.
"We have a huge amount of exports from international brands that help the Scottish and UK economy."
Several firms have already expressed an interest in leasing space at the 120-acre Barmuckity site, with planning permission in place for a mix of large and small units.
The £12million package would be used to create the required infrastructure so that businesses were able to move in.
Preparations for the council's bid are at an early stage, but councillors were told yesterday that money could be invested across Moray.
Local authority convener Allan Wright said Buckie could also be in line for a financial boost.
He said: "We are trying to put forward a package of measures which we would seek city deal-type help for.
"Barmuckity is a project everyone is enthusiastic about, but we can't afford to reinvigorate it on our own."
Moray MP Angus Robertson said it was essential the region explored all potential funding sources.
He said: "It is important that Moray seeks to take advantage of funds that may help develop and grow our local economy, and that must include exploring the possibility of a city deal.
"The SNP Scottish Government has invested significant funding into city deals in neighbouring Inverness and Aberdeen."
The council's director of economic development, Rhona Gunn, said Scottish Secretary David Mundell had already discussed the bid with the local authority's chief executive.
And a Scottish Government spokeswoman said: "We are committed to working in partnership across the public sector to boost economic growth.
"We encourage regions to work collaboratively where possible to identify how best to deliver a vision for inclusive growth, and we would be interested to hear Moray Council's proposals."
The city deals include funding from the UK and Scottish governments, and extra borrowing powers for councils.