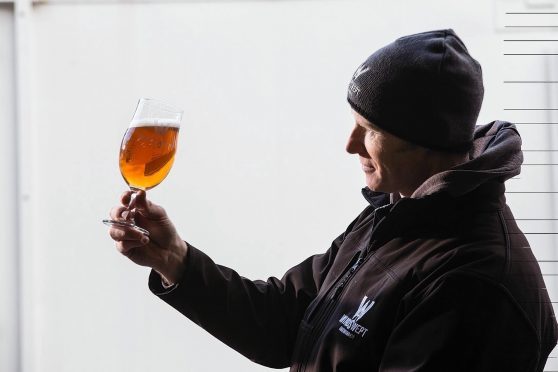 Windswept Brewing Company is hoping for a bigger profile across Scotland and internationally after the Aberdeen Asset Management Scottish Open golf tournament at Castle Stuart.
The Moray firm said yesterday it was the only craft beer supplier featuring at the Inverness event, which runs from Thursday until Sunday.
Its team is busy loading 1,300 pints-worth of cask and bottled beer into its delivery truck and going on standby to provide fresh supplies throughout the Open.
The Lossiemouth brewer will be selling four craft beers throughout the tournament, which will have a huge television audience in Scotland and overseas.
Windswept's Blonde and Wolf beers will be on draft, with single hop beers Typhoon and Tornado available in bottles.
The firm, launched by two former RAF Tornado pilots, Alisdair Read and Nigel Tiddy, at the end of 2012, aims to double its annual beer production from 33,000 to about 66,000 gallons and increase staff numbers from 12 to 17 within the next two years.
Managing director Nigel Tiddy said: "We're a really small brewery, so this is a fantastic opportunity for us to let golfers and fans from across Scotland in on the secret.
"We're an excellent match for the Scottish Open this year, as the golf courses across the north-east of Scotland are undoubtedly windswept for most of the year.
Peter Adams, director of international championships at the European Tour and the Scottish Open said: "We always look for ways to work with local suppliers and producers.
"It makes sense to showcase the very best a region has to offer.
"Windswept's hand-crafted products are the epitome of the quality and inventiveness that the Scottish craft beer sector is known for. I'm sure our golfers and spectators will be interested in finding out more."
Windswept has secured investment of around £250,000 since 2014 in order to support future growth. The brewery recently took its bottling operations in house, which has had a huge impact on its expansion potential.
The firm is now focused on growing its distribution in the central belt of Scotland and the rest of the UK, while also aiming to increase its export business.