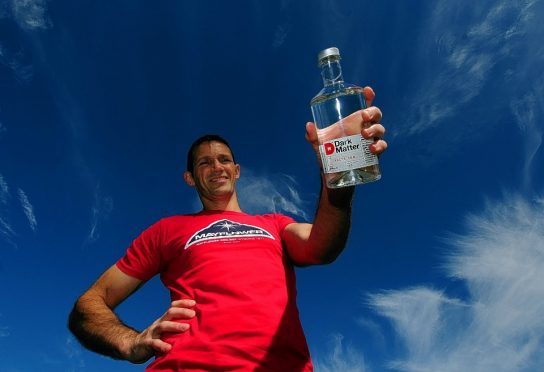 Whisky might be our national drink and the craze for craft gin may show little sign of abating, but distilleries across the North of Scotland are also producing a weird and wonderful array of spirits.
No-one could accuse David and Lara Beach of doing anything by halves. They've just got married, they're preparing to direct a community pantomime production of Alice in Wonderland – and they're starting their own rum distillery too.
"We originally thought about setting up a brewery – but there are already so many breweries around," says Ms Beach. "What appealed about making beer is that you can experiment and add different ingredients – you can't do that with whisky though.
"But you can with rum. We're looking to bring some of the excitement and experimentation from craft beer and do it with spirits.
"Gin is still trending, but I think it's saturated in some respects. So what's the next thing? Rum. Rum will be another trend and will be the next spirit that kicks off.
"The advantage of focusing on spirits is that we can move around and follow trends. We could do a gin or a vodka or a brandy or even liqueurs."
Beach Craft Spirit, which is currently based in Hopeman, aims to raise £65,000 through a crowd-funding scheme that is due to launch today on its website. Plans for its first products include a spiced rum, a sloe rum and an intense rum.
Mr Beach has been a distiller and brewer for the past 17 years – and has worked for companies including Diageo, Brewmeister, which is now Keith Brewery, and the Eccentric Gin Company in Wales – while Ms Beach has given up a career in social care to pursue their dream.
The Beaches are following in the footsteps of brothers Jim and John Ewen, who built Scotland's first rum distillery in Banchory and last year launched their Dark Matter Rum.
Jim, a petroleum economist, came up with the idea while on holiday in 2011 in the Dominican Republic and convinced his brother, a fire and explosion engineer, to help setup the company.
Rum and other bespoke spirits are also on the agenda for the Royal Burgh of Nairn Craft Distillery, a project being promoted by a group of eight founding directors in the eastern gateway to the Highlands.
The company wants to turn the former burgh police station and its Victorian cells in Nairn into a craft distillery and start producing gin, vodka, rum and eventually whisky, with perhaps liqueurs such as cassis and kummel along the way.
The project aims to promote a wet-weather, year-round tourist attraction that will bring visitors into the heart of the town, as well as creating retail and production jobs. The directors are currently seeking a major investor to help get the project off the ground, having already committed more than £80,000 of their own money.
"Craft distilleries represent a fantastic opportunity for rural communities," explains Colin Macaulay, one of the directors behind the project. "They give tourists a good reason to visit a town, which can then act as a boost for restaurants, shops and accommodation providers."
Rum isn't the only alternative spirit that's being produced in Scottish distilleries either. Vodka is also proving popular.
When Martin and Claire Murray returned to their native Caithness to open the Dunnet Bay Distillery, they initially concentrated their efforts on their Rock Rose Gin, which was launched two years ago this month.
But Mr Murray already had an idea in his head for a vodka too.
"When I was carrying out research into the local botanicals that we could use in our gin, I came across the story of holy grass," he remembers. "Robert Dick, who was a legendary botanist from Tullibody, lived in Thurso in the 1800s and discovered this rare plant growing along the banks of the River Thurso.
"This was the first accepted record in the UK for holy grass and so I wanted to celebrate that connection to the local area. The vanilla flavour holy grass gives when it's distilled was too strong for the type of gin we wanted to make, but once we had our team in place and the business was up-and-running, I wanted to go back and try making a vodka.
"Our holy grass vodka is proving very popular down south. The gin market is pretty much saturated in England because there are so many distilleries, but a lot of shops want to stock our vodka because it's something different.
"Once they've tasted our vodka then a lot of them also want to stock our gin as well. It's opened a lot of doors for us."
Mr Murray is also working on two "top secret" spirits that haven't been produced before in Scotland. In the meantime, he's also extending the range of seasonal gins that Dunnet Bay produces, including using botanicals like lemon thyme and pineapple sage to create a summer gin.
The distillery has planted a botanicals garden, which includes kidney vetch, a plant favoured by the rare small blue butterfly. The most northerly population of the insect lies on Dunnet Beach and so the Murrays are able to give a boost to an important species, an illustration of which appears on the back of each bottle of holy grass vodka.
Vodka is also in vogue outside the North of Scotland. In Angus, Ogilvy Spirits is making potato vodka at its farm in the East Sidlaw Hills and Arbikie Highland Estate is producing potato vodka and chilli vodka at its farm near Arbroath, while Strathleven Distillers is making Valt single malt vodka at Paisley and NB Gin has branched out into London dry citrus vodka in North Berwick.
One of the reasons why gin, rum and vodka are so attractive – especially to new distilleries – is the way in which they can help with a company's cash flow. If a distiller wants to produce whisky then they either need deep pockets or some stepping stones along the way.
In order to be sold as "Scotch whisky", new-make spirit needs to age in oak barrels in Scotland for at least three years. With most single malts traditionally carrying age statements of 10, 12 or 18 years, distillers can be left worrying about cash as their precious whisky slowly matures in its warehouse. Gin and vodka can be made one day and sold the next, providing much-needed cash to keep a distillery's cogs and wheels turning.
Yet for some distillers, gin or vodka or rum will be the ultimate destination and not just a means to an end – after all, not everyone wants to make Scotch. A quick glance at the statistics will reveal why. At the last count, there were already 115 distilleries licensed to produce Scotch whisky and together they export nearly £4billion-worth of spirits each year.
Even with the growth of the spirit-drinking middle classes in emerging markets such as China and India, distribution and routes-to-market present challenges for even the largest companies, let alone craft distillers. Finding a niche in the domestic market will often seem like a more manageable task than trying to grab a slice of international trade.
A note of caution for those with whisky in their sights comes from Inverness-based economist Tony Mackay. Writing in his economic briefing last month, he said: "I continue to be bemused by the flood of plans for new whisky, gin and other alcohol distilleries in Scotland.
"The investors involved are not interested in the overall demand-supply balance. They believe they can realise their desired market shares even if overall whisky consumption declines. Some of them seem risky investments to me but good luck to them all."
Yet Tony Reeman-Clark, owner of Strathearn Distillery in Perthshire and chairman of the Scottish Craft Distillers' Association (SCDA), is more upbeat about the outlook for the industry. "As long as craft distillers are content with running lifestyle businesses and don't try to take over the world then I think the market is still there," he says.
"When I drew up the first business plan for Strathearn Distillery five or six years ago, craft breweries were opening at a rate of two a week and everybody said that it couldn't continue. They were right – but in the wrong direction – because they're now opening at a rate of four per week. Distilling is a lot more expensive to get into than brewing though.
"We're lobbying the Treasury to give all alcohol producers the same tax relief that they give to craft brewers through the small brewers' duty scheme. That would help craft distilleries, cider producers and wineries."
The SCDA is also introducing an accreditation scheme for distilleries that meet its definition of "craft". "That's the first step to gaining protected geographical indication (PGI) status for Scottish craft gin and other products," Mr Reeman-Clark adds.