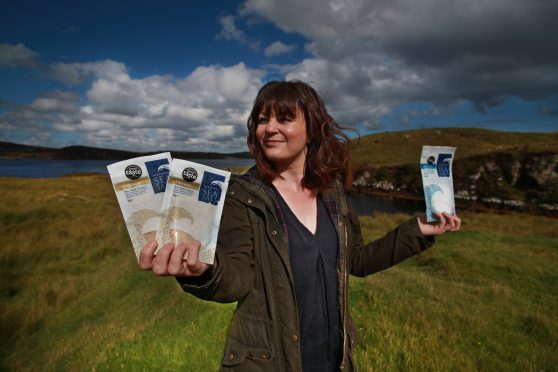 A company founded by a "stay-at-home-mum" in the Outer Hebrides has won a £180,000 deal to supply sea salt to a leading supermarket chain.
The contract has seen Hebridean Sea Salt's products stocked on the shelves of 360 Sainsbury's stores throughout the UK, including its outlets in London and the south-east of England.
It is the first expansion into major supermarket sales for the award-winning South Lochs-based company, launched by Natalie Crayton in 2011.
Yesterday she said the deal would help the business grow, expand its brand and take on more staff. She is also hopeful of securing a number of other contracts in the near future.
The first business of its kind in Scotland, the company  slowly evaporates sea water sourced locally from Loch Erisort, harvests the salt by hand and packs it at its facilities at Habost.
Sainsbury's is initially stocking its Original and Peat Smoked sea salt products and Mrs Crayton said the firm's four-strong team is working "flat out" on the contract.
Mother-of-three Natalie, 34, who studied marine biology at university and moved to Lewis from Tiree, described herself as a "stay-at-home-mum" before starting the company.
"The last few years have been very exciting and stressful, but the deal with Sainsbury's really is a turning point for the company," she said yesterday.
"We will be able to expand, take on more people and expand the brand."
Natalie spotted a gap in the market after being unable to source Scottish sea salt herself.  After building production facilities on the shores of Loch Eisort in 2012 she began producing 50kg of sea salt a day.
In 2013 the company's two additional units at Habost, housing a production and packing facility and office and storage space were opened. It production has since increased to 300kg-a-day.
The £250,000 investment in premises and equipment was supported by Highlands and Islands Enterprise, Business Gateway, The Prince's Trust Youth Business Scotland and the Scottish government's Scottish Edge initiative.
The company's products have won a number of awards, including a gold star from the Guild of Fine Foods and the praise of some of Scotland's leading chefs.
Natalie added:  "We have had fantastic support from chefs including Andrew Fairlie at Gleneagles and Mark Greenaway who love our products, so we are delighted to now bring our pure and natural sea salt flakes to consumers UK-wide."