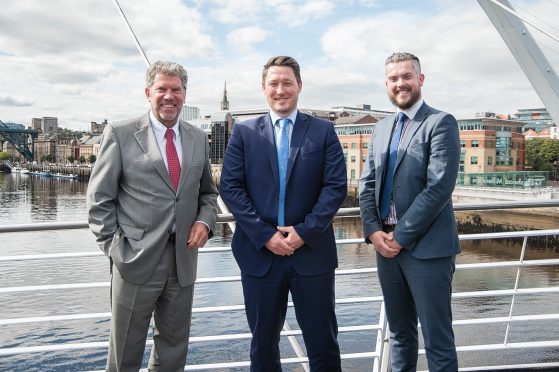 North-east law firm Aberdein Considine has made its first foray south of the border with the acquisition of a legal service business in Newcastle.
The deal to acquire Wallers Solicitors from law firm Hay & Kilner gives Aberdein Considine its first foothold in the English and Welsh legal markets and enables the expansion of its corporate conveyancing, litigation and debt & asset recovery services in those markets.
The combined business, which will trade under the Aberdein Considine brand, employs 380 staff and will have a total turnover of more than £22million.
The acquisition of the established lender services firm is accompanied by appointment of Matt Wightman who joins Aberdein Considine to spearhead the new English and Welsh operation, which will be based in Newcastle's historic Cloth Market area. Mr Wightman was formerly the chief executive of Manchester-based debt recovery law firm, HL Interactive.
Rob Aberdein, UK partner in charge of lender services at Aberdein Considine, said: "We already act for some of the UK's biggest lenders and this deal brings our customer, compliance and regulatory-focused debt & asset recovery and conveyancing services into the English and Welsh legal markets for the first time.
"Wallers, which was previously part of Hay & Kilner, has a track record of providing a great service to its loyal clients. The same dedicated staff will continue to offer that same great service under the banner of Aberdein Considine."
Jonathan Waters, managing partner at Hay & Kilner, said: "Clients increasingly require firms to operate both north and south of the Scottish border within lender services. The transfer of Wallers to Aberdein Considine therefore seemed to be the best fit for Wallers and for their many long-standing clients. We very much see this as a positive step for all involved in the transfer."
The Wallers acquisition follows the partnership's mergers with Stirling firm Muirhead Buchanan in 2014 and Glasgow lawyers A&S Ireland earlier this year.
Managing Partner Jacqueline Law said it was a "hugely exciting" time for the firm. She said: "The opportunities in England are huge and with Aberdein Considine's unique approach to volume legal services, I am confident we can win new clients to help further grow the firm."
Royal Bank of Scotland assisted in financing the latest deal – which the bank says is "good news" for the Scottish legal sector.