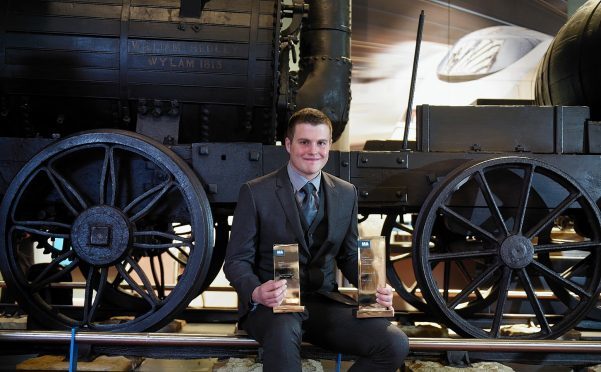 A young civil engineer from Shetland has built himself up by winning a top award for Scottish apprentices.
Joe Smith, 22, was named Scotland's apprentice of the year at this year's Scottish Apprenticeship Awards held the National Museum of Scotland in Edinburgh.
He said: "It's unbelieveable, I was completely speechless and I am really honoured. It was never expected but what a way to round up my apprenticeship. I would say to anyone thinking about an apprenticeship to go for it, they won't regret it. It is the way forward and it is the best thing I have ever done."
Mr Smith, who is based in Tingwall, had a weekend job as a ground worker with Lerwick-based concrete specialists Tulloch Developments while he was still at school and has now become one of the firm's most respected civil engineers.
He has site-managed projects including land reclamation, tarring six miles of road on a gas plant, setting out works for an airport runway approach and constructing a suspended walkway under a bridge.
Other apprentices in the north to be recognised include Aberdeen Asset Management worker Sophie Ewen who received the award for apprentice ambassador of the year for her commitment to promoting apprenticeships and helping young people develop their career opportunities. The 21-year-old also runs employability workshops for young people in her home city of Aberdeen.
The awards, held by Skills Development Scotland (SDS), also celebrated employers.
Gairloch-based Maclean Construction won as micro employer of the year. Owner Craig Maclean said he believes that investing in training is key to providing a sound economic strategy for the business, which has a workforce of four.
Lloyds Banking Group won the large employer of the year award. The company recruited modern apprentices in a bid to widen its talent pool and to make opportunities available to young people who might not ordinarily look for a role in banking. More than 280 apprentices have started an apprenticeship in Scotland.
Economy secretary Keith Brown said: "Congratulations to the apprentices who have been recognised for their hard work and dedication.
"These inspiring success stories show the real benefit apprenticeships make to individuals, employers and the Scottish economy.
"We have already supported more than 128,000 new modern apprenticeship starts in the last Parliamentary term, and our commitment to 30,000 modern apprenticeships by 2020 means more people and employers will be able to benefit from work based learning."
A campaign to demonstrate that apprenticeships offer an excellent starting point in the careers of north-east youngsters was launched last week.
All in for Apprenticeships will strive to change the perceptions of parents, young people and employers who think getting a university degree is the only option.
The organisers believe that traineeships which allow young people to enter paid employment and gain qualifications are the best preparation for the "world of work".
Developing the Young Workforce North East Scotland (DYW NES), an industry-led initiative that provides a single point of contact for employers looking to invest in young people, is leading All in for Apprenticeships.
SDS, which delivers the Scottish Government's Modern Apprenticeship programme, and the Press and Journal have pledged to support the venture.