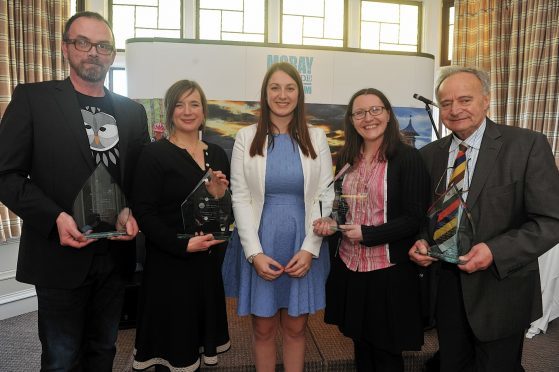 More than 110 people representing organisations around Moray celebrated business successes in the area at an event in Lossiemouth yesterday.
The second annual Moray Chamber of Commerce (MCC) Annual Awards Lunch saw honours going to four local ventures.
Themed publisher I Like Birds (ILB), based at Rafford, near Forres, won the most promising enterprise award.
ILB is owned and run by Stuart Cox, who recently tied up a licensing deal with an agent, JELC, whose other clients include soft drink giant Pepsi and The National Gallery.
JELC will work closely with the business to roll out its artwork across the UK and internationally.
Forres-based renewable-energy firm AES Solar scooped MCC's small and medium-sized enterprise of the year title.
Believed to be the first solar manufacturer in western Europe, AES Solar has been up and running more than 35 years.
The other two awards up for grabs celebrated tourism success in the area.
Spey Bay Whale and Dolphin Centre, run by the Whale and Dolphin Conservation charity, was presented with the Moray Speyside tourism business award.
The centre welcomes about 90,000 visitors a year, all hoping to catch a glimpse of one or more of the Moray Firth's bottlenose dolphins.
Findhorn Bay Arts came away with the community tourism award in recognition of its encouragement of volunteers and local industry engagement, not to mention the succes sof its annual festival.
Held at Stotfield Hotel as part of Moray Business Week, yesterday's event also included a presentation by Jill Brown, owner of fruit-based spirit firm Berry Good, who has recently moved from Caithness to Elgin in order to expand her business.
MCC chief executive Sarah Medcraf said "I am delighted that we had such a strong turnout for our awards as they come into their second year.
"Business is getting tougher each year, with one thing or another. Our Moray businesses prove time and time again they can take it in their stride and thrive. Our awards are a celebration of that."