Each week, we ask small businesses key questions.
Here we speak to Colin Kirkwood, managing director of Piccolo Press in Nairn
How and why did you start in business?
I have always been interested in design and the printed word, and studied publishing at Edinburgh's Napier College.
I then pursued a career in publishing, working at some big-name printer/publishers, including Bartholomew, Harper-Collins and Aberdeen University Press (AUP). I moved to the Highlands in 1996 to become marketing director for photographic postcard, calendar and book publisher Colin Baxter.
Having published maps and guides for much of my career, I had a lot of exposure to the tourism industry and this led to my becoming the marketing and public relations manager at CairnGorm Mountain in 2011.
How did you get to where you are today?
Although a niche business, Piccolo Press is a widely recognised name in the industry and I was well aware of its existence. So, when the opportunity to lead the team arose about two years ago, I jumped at it.
The business had been founded 30 years previously by Tim Honnor, who had built up an impressive list of clients.
It had changed hands a couple of times in recent years and the current owner, who has other stationery interests, was looking for someone to head it up.
I knew as soon as I saw the role advertised that it had my name on it and that my background in print, publishing and marketing made me a very strong candidate.
Above all, I loved what they produced and the craft printing skills that they employed in the production of fine stationery for clients all over the UK. They needed someone to champion the cause and grow the business.
Who helped you?
While you can learn a great deal from academic courses, nothing beats the help, support and encouragement that mentors and the people you respect can bring.
Mike Chittleburgh, who was the marketing director of Bartholomew's, and Sir Kenneth Alexander, my chairman at AUP, stand out as people who both encouraged me and gave me more responsibility.
More recently, Ian Whitaker, when he was at CairnGorm Mountain, created a great sense of common purpose among his workforce; you looked forward to starting work each day. He also encouraged his staff to gain new skills.
Membership of the Federation of Small Businesses (FSB) ensures we can tap into invaluable professional business advice and support whenever we need it, which takes a great weight off our shoulders.
What has been your biggest mistake?
Not grasping the opportunities presented by social media quickly enough. A recent seminar organised by the FSB brought it all home to me, highlighting a wide range of things I could and should be doing on social media to grow and promote Piccolo.
Implementation without fuller understanding of the techniques and overcoming wariness of the pitfalls remains a challenge but I know what I want to achieve.
What is your greatest achievement?
Persuading a succession of people to employ me after being made redundant. In an ever-changing environment, networking and building relationships have helped me greatly.
If you were in power in government, what would you change?
I would make the second chamber at Westminster a proportionally representational one, although not necessarily elected.
In addition, I would make all future national referenda geographically anonymous and with a defined period within which they cannot be re-run.
Also, and this is not really a government issue any longer, I would love it if someone would reinstate Red Star Parcels on the rail network.
Lots of carriers provide overnight services but not same-day services, which was possible with Red Star.
Many of our clients leave ordering their stationery or invitations until very late and every day can count in the production schedule.
I am sure we are not alone in wanting this; a business opportunity exists for someone.
What do you still hope to achieve?
Increased turnover and profitability for Piccolo.
What do you do to relax?
I enjoy walking, reeling, cycling, going to the theatre – I wish there was more serious drama at Eden Court – and cooking.
What are you currently reading, listening to or glued to on the TV?
The Improbability of Love by Hannah Rothschild.
What do you waste your money on?
Food, which disappears to the bottom of the freezer and takes months to rediscover.
How would your friends describe you?
Dryly humorous, imaginative and late.
What would your enemies say about you?
That I am tenacious, facetious, pedantic and late.
What do you drive and dream of driving?
I drive a Volvo V50. Where cars are concerned, I'm interested in function over form so I'll take anything economical fitted with winter tyres and reliable enough for commuting year-round over the Dava Moor (between Forres and Grantown). Suggestions please.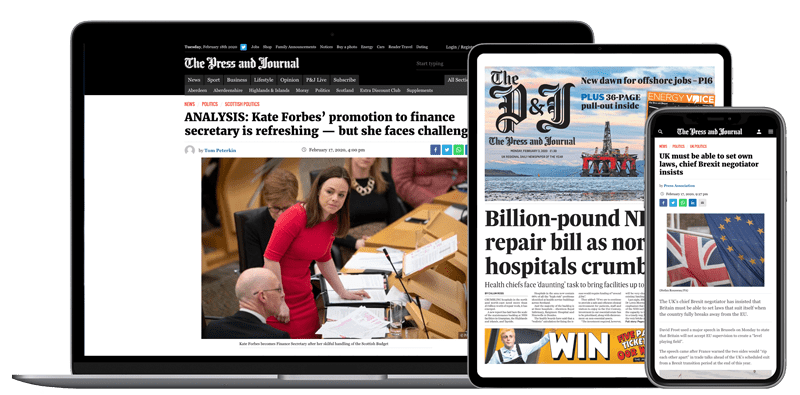 Help support quality local journalism … become a digital subscriber to The Press and Journal
For as little as £5.99 a month you can access all of our content, including Premium articles.
Subscribe