Expensive single malts are expected to drive an 8% boost in global whisky sales over the next few years, a report has predicted.
The Vinexpo/IWSR global spirits study 2015-2020 forecasts that sales of all types of Scotch whisky will start to climb from a plateau of 86.5million 9-litre cases to reach 93.8million cases by 2020.
The report said that single malts will grow faster than blended whiskies due to their "craft and provenance credentials". Higher priced products will continue to gain market share while North America and Asia will see the fastest development of malt Scotch over the period, it said.
It added that rapid development of malt Scotch in the US will offset the decline of blended Scotch leaving overall volumes flat.
The major growth regions worldwide are expected to be Asia and Latin America. Volume sales in the Asia Pacific region are forecast to grow from just over 14 million 9-litre cases in 2016 to more than 16.5 million cases by 2020.
In the UK, Scotch continues to lose ground as core consumers age or move to more "on-trend" categories. Malts are likely to see higher growth at super-premium level, the report said.
Scotch and US whiskies are together expected to be the best-performing international spirts categories between 2016 and 2020.
Meanwhile, sales of gin and Dutch genever are forecast to reach 55.6 million 9-litre cases by 2020. In Europe in the same period they are slated to rise from 15.8million 9-litre cases to 18.2million cases by 2020.
The study said interest in gin is attributed to "consumer curiosity aroused by the explosion of different brands", as well as the cocktail segment. Classic cocktails are driving the trend in Australasia while the emergence of cocktail bars in major bars in Asia is essential to the prosperity of premium-and-above gins
Vinexpo is an international wine and spirit exhibition and takes place n Bordeaux, France, from June 18 to June 21 this year.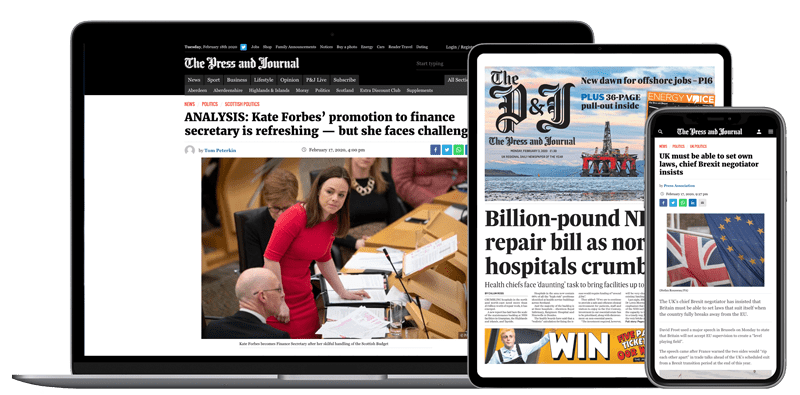 Help support quality local journalism … become a digital subscriber to The Press and Journal
For as little as £5.99 a month you can access all of our content, including Premium articles.
Subscribe