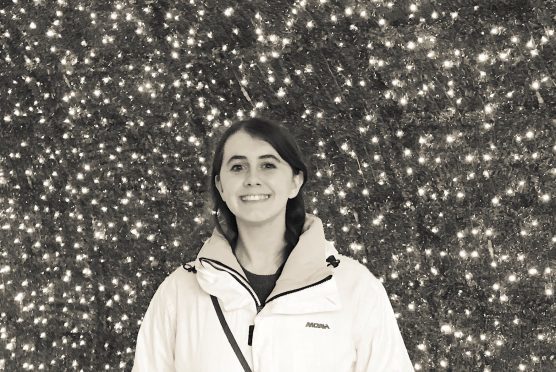 A recent graduate of Robert Gordon University in Aberdeen has been granted a place on a unique course in film and television.
Xanthe Bodington completed her studies at Gray's School of Art last year, but her work is far from complete.
She has now started on a course entitled graphics and titles for film and television with the National Film and Television School (NFTS) in Beaconsfield.
The 23-year-old previously studied in Calgary after being given a creative travel award by Aberdeen City Council.
She will now get the chance to develop the skills she learned at Gray's, especially those picked up during his dissertation which looked into film and TV graphics and titles.
She explained how it all came about.
She said: "After graduating, I worked on a few freelance projects such as rebranding, logo designs and graphics for Aberdeen walking app.
"I then travelled to Calgary in Canada in September as part of the creative travel award awarded to me by the city council.
"While I was in Calgary, I was lucky enough to have a friend pass on details about a unique course at the NFTS in Beaconsfield for graphics and titles for television and film in partnership with Sky TV.
"Literally, the day after I got back from Canada, I went down from Aberdeen for an interview and was offered a place on the course.
"I am very excited to start it as this area of design is what I am really interested in, thanks to doing a project on my course at RGU based on title designs.
"My dissertation topic was on film and TV graphics and titles as well, so I regard this course at NFTS as a way to pursue my passion with an opportunity to work with Sky TV."
She also created an installation for the SPECTRA festival last month. And she believes there is a lot in Aberdeen for up-and-coming artists.
She said: "I found the best work I produced was in my final year and I think it was down to reaching out to others to help with my ideas or working collaboratively.
"The artist community in Aberdeen is a lot bigger than I thought. I found that putting yourself out there and showing you are willing can reward you with fantastic opportunities."
Cameron Craddock, who works as the course leader for communication design at Gray's School of Art, said he was glad to see a former pupil doing well.
He said: "We are delighted to see the progress that Xanthe has made within the early stages of her design career.
"Students develop a wide range of skills and graduate attributes whilst studying on this course and Xanthe is applying many of them across a whole range of activities.
"We wish her well in her future endeavours."