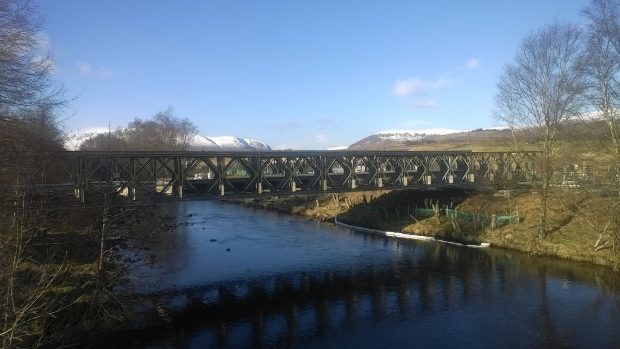 A temporary bridge over the River Spey in Laggan has helped contractors get to the other side of a major substation project.
Bridge engineer Mabey managed to put the span in place through heavy winter conditions so that it could bear heavy loads across the Spey to the site of the new Melgarve substation.
The 165-foot bridge will carry a 197-tonne load vehicle, which will be delivering a 110 tonne transformer, to the substation which is being built by contractor Bam Nuttall. The current bridge, which is not suitable to carry that load, remains in place, providing an alternative public traffic access route.
Chris Carter, contracts director at Mabey, said: "This new bridge is critical to help Bam Nuttall keep the construction of the new substation moving quickly, safely and efficiently. Tough winter conditions made this a difficult job, but we were pleased to install the bridge in just 22 working days, allowing Bam Nuttall to carry exceptionally heavy loads and providing additional public traffic access for the wider community."
Ian Steele, project manager at Siemens Bam said: "A heavy duty access solution to the project, in an area of high environmental value was required urgently. Mabey's response was excellent, rising to the challenge – they worked with us as a team through difficult Scottish weather, and we managed to successfully complete the project ahead of schedule."