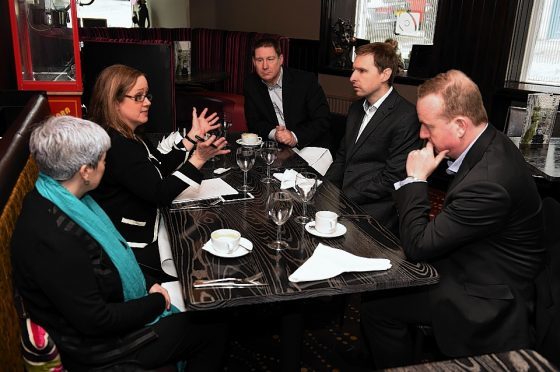 Tucked around the corner of the busy traffic corridor around Union Square and the train station is the Merchant Quarter. Its cobbled streets and independent shops, bars and restaurants hugging the base of Union Street above is remnant of Aberdeen's medieval past and an oasis of character and charm, an antidote to chain outlets and corporate blandness.
This spirit is exemplified by the gilt and velvet furnishings of the Carmelite Hotel where we meet to discuss the outrageous fortunes of the north-east's hospitality sector.
With the recent business rates panic and the potential of an impending tourist levy, there is no shortage of slings and arrows facing hotel owners and operators in the region. But as out group sits down over a delicious lunch, what emerges is there is more than enough appetite for taking arms against this sea of troubles, and ending them.
James Bream, research and policy director at Aberdeen & Grampian Chamber of Commerce (AGCC), is duly hungry after spearheading a successful campaign to reverse a potentially disastrous rise in business rates for businesses in the north-east.
Some hospitality firms were facing seeing their tax doubled before they were capped at 12.5% in a relief package revealed by the Scottish Government.
AGCC along with the Aberdeen City & Shire Hotels Association (ACSHA) and other business groups argued that the valuation on which the ratings would be based was vastly out of step with current trading trading conditions in the region.
Criticism was also levied at the region's independent rates assessor for misjudging the impact of the oil and gas recession on the economy. Meanwhile, the whole UK rates system was called into question for being too opaque and not fit for purpose.
Mr Bream, who as he tucked into a serving of smoked haddock on a bed of puffy mashed potatoes, said that while not everyone was satisfied, there has been progress: "A year ago now we started to work on this because it was obvious this revaluation process was going to cause issues for the region.
"Ultimately though people start to get really excited or desperate when the draft values come out and they can see it at an individual level.
"Then you can start to understand the impact on individuals and they contact you.
"The reason we were successful as a region with £10million support is that we did it together.
"Having a single voice was important. We are now at the end of the first phase of the process which is trying to get some money to mitigate this year.
"Where our heads at are now is to make sure we don't have deja vu next year.
"Hence we have Ken Barclay who is leading the review of the business rates system coming up to Aberdeen.
"In a sense that has got to be the key thing for us looking forward. Because what we have got now is a sticking plaster – and it is not even a sticking plaster that will stop the bleeding for everybody."
Fellow guests Mary Martin, director of the Douglas Hotel on Market Street and Gary Atkinson, chairman of ACSHA, couldn't agree more.
Ms Martin, who opted for the pie of the day – chicken, leek and ham – said: "We all recognise taxes have to be paid and I'm all for paying our fare share. But I can't understand the huge increases we have to pay."
Mr Atkinson, who is hosting us at the boutique hotel, welcomed the cap but noted that under his original valuation he would have been paying an extra £1,600 per week – and until a permanent solution is found he still faces a tax hike in a year's time.
He said: "We are where we are. We are nowhere near the values we were at two years ago.
"If a figure comes out of the wood work though a valuation it sets in motion other things beyond our control, namely credit committees and decisions that are often made down in London.
"Those decisions could be, as we know, administration, liquidation, because of a loss of confidence.
"Effectively a 12.5% cap is in our case £500-£600 a month.
"But come month 13, if nothing is done, we are back up to £1,600 a week extra.
"If we are looking where we are now, the economy is still down, business is still backwards, we are spending all this time trying to control cost and trying to drag in any sales you can – then knowing in 13 months time that if we don't sort this out it could be lights out."
Mr Bream does some quick calculations and asks a pertinent if rhetorical question: "So how many rooms and covers do you need to sell each week to make £1,600 extra?"
Ms Martin said: "And unlike utilities, where when the price goes up, you pass it on to the customer. We can't do that."
Our fourth guest is Adrian Watson, chief executive of the city's business improvement district, Aberdeen Inspired.
He too was involved in the campaign to alleviate the impact of non-domestic rates (NDR) and he also sees its impact on a wide range of businesses.
"It is that human element that is often forgotten in this," he said. "People from outside just see this as a business challenge. But at a local level in the city centre we have had people come to us in tears. This is the tipping point. It is that idiosyncrasy of being in the north east – things were good before."
Ms Martin agrees: "2014 was a bonanza."
Mr Watson continued: "I speak to the pubs and clubs as well as the hoteliers. But here is another real challenge. Aberdeen is struggling. The vacancy level on Union Street is higher then the national average."
And as if the rise in rates wasn't enough, moves are also afoot to bring in a tourism levy that would add an extra pound to the cost of booking a room.
Mr Atkinson points out there are merits and demerits to this proposal and the views of his members are split down the middle.
Mr Bream adds: "The thing with a levy is there are ways this could be almost acceptable and ways it could be horrendous.
"If you took the position where you created a system whereby for every £1 there as a guarantee the hotelier would get £2, that would be more tenable. That is where there is along way to go on the business case."
Despite the challenges facing the hotels sector in the next year or so, there is light on the horizon. Much of this is what AGCC has estimated to be the £5billion of investment being plugged into the region through a variety of infrastructure projects over the next 12 years. Several, including the new conference centre, the expansion of Aberdeen Harbour, the Aberdeen Western Peripheral Route and the re-opening after major refurbishments of the Music Hall and the Aberdeen Art Gallery will be on stream within the next few years.
Likewise events like the Great Aberdeen Run and Aberdeen Inspired's own festivals such as that at Christmas and the highly successful comedy festival last November also posit the region as attractive for uses other than housing and feeding oil and gas workers.
Ms Martin said: "Maybe we are a bit impatient here in Aberdeen. It takes time to build these things. Look at Edinburgh festivals – it has been going for 70 years. It is marvellous now. But I'd bet it wasn't 70 years ago.
"The building blocks are there but it feels far away if we have these costs."
Meanwhile, more good news was announced last week when culture secretary Fiona Hyslop announced that the business rates increase cap would also be extended to other accommodation including self-catering, guesthouses, B&B, timeshare units, hostels, camping and caravan sites.
Mr Bream also argues the ratings black hole that nearly swallowed the north east economy is due for a major revamp. Complicated by the two year lag between valuation and payment, he believes that business rates would be much simpler if it could be charged much like people pay for utilities. This has the possibility of turning the year's delay "sticking plaster" into something all the more healing.
He said: "We do it in electricity and water – and actually it is pretty simple and easy to understand.
"There are all sorts of solutions you could apply that are out there in the world. You don't need to reinvent things.
"This is the sort of think I'd expect Ken Barclay to be looking at."