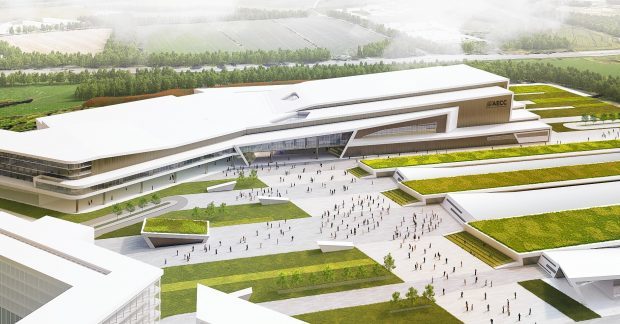 Henry Boot said work on the new Aberdeen Exhibition and Conference Centre (AECC) contributed to one of the busiest years in its 131-year history.
Announcing a 22% jump in pre-tax profits to £32.5million last year, the Sheffield-based Construction and property development company added it had made good progress on its big project in the Granite City.
Work to create a world-class new exhibition and conference venue for Europe's oil and gas capital started last summer.
Elgin and Stirling-based Robertson Group was chosen as lead contractor for the £333million development, which will deliver a 10,000-seat arena and 200-bed, four-star hotel for Aberdeen City Council.
Henry Boot's development arm has also lodged plans for a 150-bed hotel, operated by Aloft Hotels, next to Aberdeen International Airport.
Reporting on the group's 2016 trading yesterday, chairman Jamie Boot said: "Each of our three business segments performed well, notwithstanding the macroeconomic concerns after the EU referendum result, and we have built a strong pipeline of schemes to be delivered over 2017-2019.
"Retained earnings, offset in part by a slightly higher pension scheme deficit, resulted in the net asset value per share (a key industry benchmark) rising to £1.77 from £1.68, with total capital employed of £233.6million.
"2016 saw the start of several larger commercial developments for Henry Boot.
"Delivery of major schemes at Aberdeen, Markham Vale (Chesterfield) and York has progressed well in the year and, in addition, we continue to work on a number of smaller schemes.
"As many of these projects are pre-sold, much of this activity is reflected in 2016 turnover which increased 74% to £306.8million."
Mr Boot, whose great great uncle Henry founded the business in 1886, added: "2017 has started in line with our expectations and the year ahead will see us actively work on over 10 commercial development schemes, some of which will take us through to 2019 and 2020.
"Including sites with planning permission already granted, those in the planning process and sites where we anticipate making an application within the current year, we now have over 30,000 plots in the pipeline.
"We continue to focus on the profitable delivery of all these opportunities and remain confident in our ability to achieve this on behalf of our shareholders.
A wide range of construction projects carried out by Henry Boot at home and abroad over the years includes harbours, railways, roads, schools and hospitals.