Scotland's first digital academy is coming to Aberdeen to scope out the demand for coding skills by former oil and gas workers and employers.
Edinburgh-based CodeClan will be holding an open session in the Granite city this month along with Aberdeen-based IT and digital matchmaking firm, Company Connecting.
The Edinburgh-based digital academy – a social enterprise backed by the Scottish Government and industry trade body ScotlandIS – will use the event as a scoping exercise to determine if there is demand for it to open a base in Aberdeen.
Established over a year and a half ago, CodeClan plays a key role in the development of Edinburgh's tech scene and is based at Codebase, the largest technology incubator in the UK and one of the fastest growing in Europe.
Harvey Wheaton, chief executive of CodeClan, said: "We have been in discussions about expansion into other parts of Scotland for some time and Aberdeen is one of those places on the radar.
"We already have a good flow of people coming from Aberdeen for the course and going back to work.
"This event is a chance to do some fact finding.
"There are two key things we need to pick a location – we need to have a good supply of students who want to move into tech.
"And by that I mean career changers – our average age here is around 30 or 31.
"The other side of the equation is seeing what the demand is from a wide range of businesses using tech to take those people at the end of the course and employ them.
"That is the bit we are trying to ascertain is what that demand is and how much it is growing in Aberdeen which it seems to be."
CodeClan was established in the wake of research which showed that 11,000 are jobs available in Scotland's digital technologies sector each year and this figure is set to rise by 2,000 every year.
Paul Lindop, co-founder of Company Connecting and a member of the north-east Scotland steering group for ScotlandIS, recently completed research for Aberdeen City Council on the region's digital skills gap and found the issues were similar.
"North east Scotland is not immune from this skills shortage and this will only increase as new digital businesses emerge and perhaps more importantly, existing businesses digitise and eventually become true digital businesses themselves."
He added that the Scottish Government's Transition Training Fund was also be used to retrain oil and gas workers at CodeClan.
"For those who have been made redundant from oil and gas the Transition Training Fund has so far been accessed by 15 students of CodeClan and further funds are available," he said.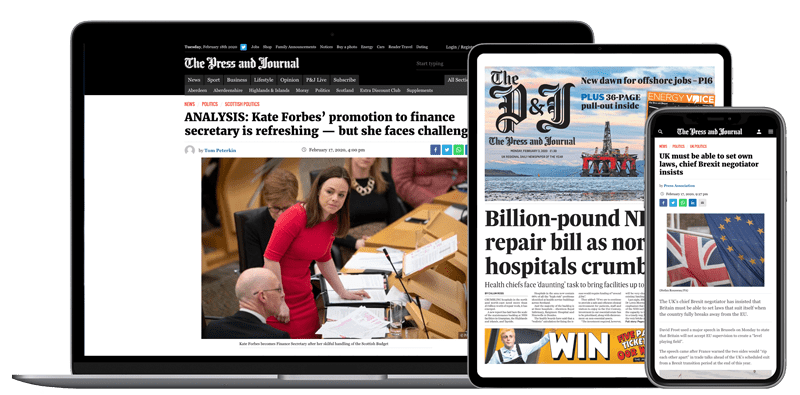 Help support quality local journalism … become a digital subscriber to The Press and Journal
For as little as £5.99 a month you can access all of our content, including Premium articles.
Subscribe