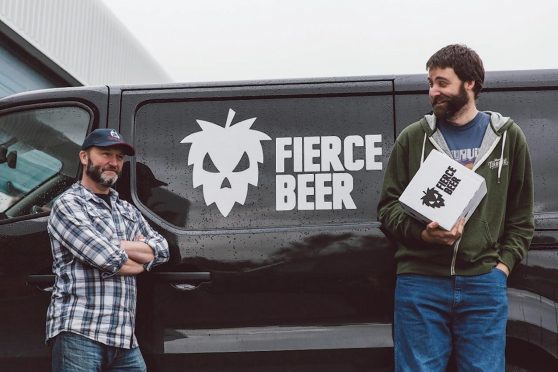 A fledgling brewery in the north-east has secured a £120,000 funding package to increase production capacity more than six fold.
Aberdeen-based Fierce Beer will invest the cash from Barclays into a new bottling plant after it recently quadrupled the size of its facilities in Dyce.
The bottling plant which will allow the company to produce 2,000 bottles per hour. Previously, the founders Dave Grant and David McHardy hand-bottled just up to 300 bottles of beer an hour. Also on the shopping list is new fermenting equipment with some left over for growth capital.
The backing comes just weeks after fellow north-east brewer Brewdog sold a 22% stake in its business to an American private equity company – valuing the Ellon-based brewery at £1billion.
Dave Grant, co-founder of Fierce Beer, admitted the other firm is in a "different ball game completely" compared to his company, but that the brewery he helped to establish in 2015 has "grown beyond our expectations".
Looking for a career change after becoming disenchanted with their oil sales jobs, Mr Grant and business partner David McHardy met on a brewing course and united over their love for good quality beer. Starting out with home brewing kits, they experimented to create unique beer flavours before moving into brewery premises in May 2016.
Mr Grant said the small team at Fierce grew quickly and only had the capacity to meet request for sales. Listings have been secured with some of the UK's leading multiples including Lidl and Aldi, and the company also exports to several international markets including Holland, Sweden, Hong Kong and Singapore.
"It has grown beyond our expectations, to be honest," he said. "Things are still tight and we are still young and cash flow is critical. We are exporting to seven countries already, we have a good reputation around the country for good beer and are in pretty much every city in the UK.
"What is critical with this investment is people have been coming to us asking if they could please stock our beer. Now we have been released to do more reactive and proactive sales, things could be even better."
Stuart Brown, head of SME Scotland at Barclays, said: "Fierce Beer is an example of the innovative, ambitious businesses that have seen Scotland's food and drink sector become so renowned across the world. We were able to offer the company a local team who understood their business but could also provide the type of support and connections that we can offer as a global bank."