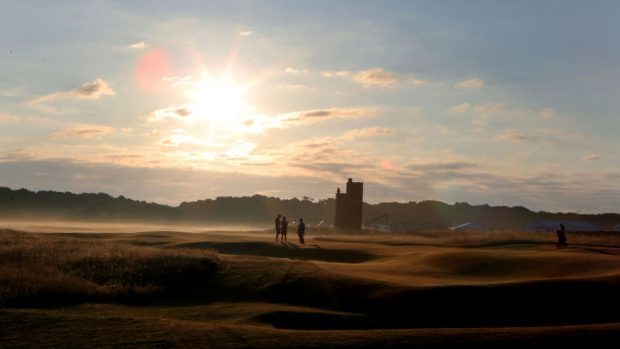 The economic value of golf tourism and events to Scotland has risen to £286million – within putting distance of reaching a target of £300million per year by 2020.
New figures demonstrating the importance and impact of the sport in the "home of golf" have been revealed as part of an independent study commissioned by VisitScotland and Scottish Enterprise.
Regionally, economic value of golf tourism to Aberdeenshire – home to Trump International Golf Links – is £15.3million, with 360 jobs supported. Across the Highlands, which takes in the championship links course Castle Stuart, the sport brought in £23.2million and supported 643 jobs.
The study found the value has risen by 30% = or £66 million – since 2008. Across Scotland the pursuit supports 4,700 jobs.
It also showed that overseas golfing visitors spend on average £338 per night during a trip to Scotland, which is more than 4 times the daily spend of an average overseas visitor.
The North American market remains key, representing 30% of all overnight golfing visitors with 14% coming from Europe.
Americans are also big spenders. On average an overnight golfing visitor will spend £245 per night but this number jumps to £338 for visitors from overseas. For North Americans this figure increases to £405 per night.
The research also found the majority of overseas visitors, 57%, had been to Scotland before suggesting that, for many, a trip to Scotland is not seen as a once in a lifetime experience.
Malcolm Roughead, chief executive of VisitScotland, said: "Golf is one of Scotland's unique selling points which resonates with potential visitors all over the world and signifies why we place huge importance promoting Scotland as the Home of Golf to a global market place.
"Our support of international golf events and our global golf marketing activity gives us significant media profile and I am delighted that this is in turn reflected in golf's contribution to the Scottish economy."
Nigel Bradburn, the marketing convenor of Aboyne Golf Club, confirmed the Deeside course had been enjoying an uplift in international visitors – which has "offset" the impact of a drop in corporate bookings fuelled by the oil and has downturn.
"Aboyne has seen an increase in visitors from places where we wouldn't normally get them from. Certainly European visitors who are taking advantage of the better exchange rate.
"It is probably a bit safer to come to Aboyne than it is to some other locations."
Meanwhile, the tourist body said new air routes such as Air Iceland/Icelandair Keflavik to Aberdeen and KLM's Amsterdam Schiphol to Inverness delivered a £46million boost to the Scottish economy.
The announcement comes ahead of VisitScotland Expo 2017, the organisation's flagship travel trade show will see 276 tourism businesses from all over Scotland exhibiting at the Scottish Events Campus (SEC) in Glasgow.