Each week, we ask small businesses key questions.
Here we speak to Clive Watson, director of Inverness firm Simply WiFi
How and why did you start in business?
After growing up in London I joined the Royal Navy on a five-year artificer apprentice. Then, as a qualified electrical and electronic technician engineer, I rose through the ranks to become a chief petty officer, serving on frigates, destroyers and minesweepers all over the world, including the Gulf.
I was then selected for a commission as a weapons engineering officer and communications specialist, and spent the next 15 years in a number of roles, culminating in a posting as I/C (in command) to the Nato communications agency network control centre at Northwood.
My interest has always been in radio communications, computing and wifi, so when I left the Navy it was only natural that I would work in this field.
I started off in a mainstream IT business and then, while staying in a west coast hotel in 2013, I saw the light. I was very frustrated at not being able to get online and the hotel informed me there was no business in the Highlands providing simple, affordable wifi to tourist hotels and other venues. After further research I started Simply WiFi in Inverness.
How did you get to where you are today?
Serving in the military gives you a high degree of self-confidence, plus the ability to persevere in the face of adversity and to change and adapt to any situation you find yourself in. This, and the ability to self-motivate, are vital attributes for the self-employed.
For many rural businesses, wireless networks can be faster, more practical, more reliable and more secure.
Today we support estates, farms, hospitality, tourism and other rural businesses and events throughout Scotland, providing clients with bespoke solutions that best satisfy their business needs.
This includes distributing wifi throughout and between buildings and covering open spaces with satellite or fixed line wifi, or a meshed solution of both. We also provide temporary wifi to events and free wifi to a lot of Highland Games.
Who helped you?
The Navy provided some resettlement training on how to run your own business and the Royal British Legion provided a small loan to enable ex military start-ups get off the ground.
One of the best bits of advice was to join the Federation of Small Businesses. It has proved to be very supportive, with advice and events on all aspects of running a small business.
What has been your biggest mistake?
Not starting my own business sooner. Providing customers with great service and seeing the business grow are extremely satisfying, and I only wish I was younger.
What is your greatest achievement?
Building our own house. Despite all the trials and tribulations, it is lovely to sit down somewhere and say: "We did this." In fact, we enjoyed it so much we are doing it again.
If you were in power in government, what would you change?
The tax system. It seems incredible that the tax regulations are some 17,000 pages long and yet we still appear not to pay enough to meet the country's needs.
Too many people get away with not paying and there are too many avoidance schemes. Implementation of a progressive tax system on those that earn and spend most would benefit everyone, even those who would have to pay more.
What do you still hope to achieve?
We have a fantastic business model in Simply WiFi, and there is no doubt that it would make a big difference to towns and cities throughout Scotland and the UK.
What do you do to relax?
Retreat to the Kylesku Hotel to walk, rest and recuperate, while eating excellent fresh seafood, drinking fine wine and ales and being pampered by the wonderful staff. Take me there now.
What are you currently reading, listening to or glued to on the TV?
I have a big interest in Norway and many friends over there, and I love Vikings, The Lost Kingdom and Scandinavian detective and other series.
What do you waste your money on?
I'm a classic car and motorcycle nut. Investing in an old Mercedes and restoring it before the price gets too high is on my bucket list.
How would your friends describe you?
Loyal, dependable and easily led astray.
What would your enemies say about you?
Life is too short to bother making enemies. Move on and let people be.
What do you drive and dream of driving?
I drive a van and would love an old E class 350 Mercedes W123 or W114, with vertical headlights and a very large engine to eat up the miles – and no doubt the profits from a successful business.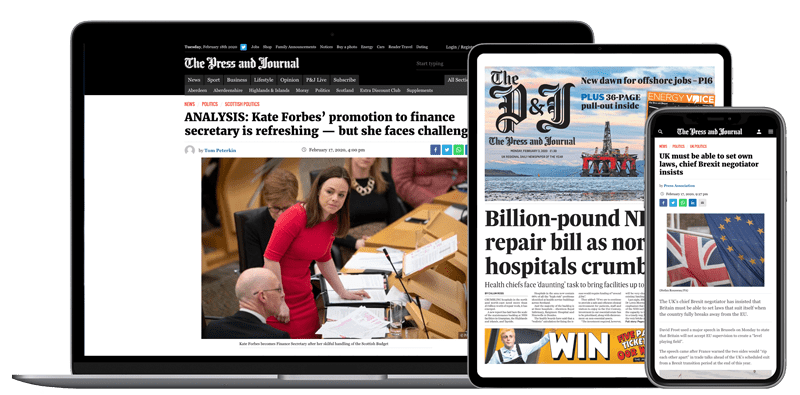 Help support quality local journalism … become a digital subscriber to The Press and Journal
For as little as £5.99 a month you can access all of our content, including Premium articles.
Subscribe