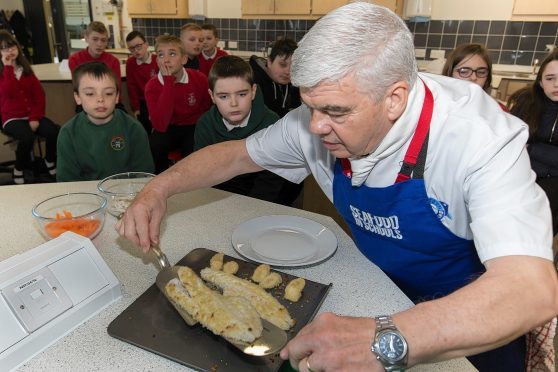 Caithness youngsters are getting to grips with examples of Scottish seafood at an educational roadshow taking place in Wick this week.
Trade body Seafood Scotland chose the town – once the epicentre of Scotland's then booming herring industry – for its latest Seafood in Schools event.
Pupils from Wick High School, along with children from Bower, Canisbay, Dunbeath, Hillhead, Keiss, Newton Park, Noss, Lybster, Thrumster, Watten primary schools, are taking part in activities spanning two days.
They are learning where seafood comes from, how it gets to their plates and why eating seafood is an important part of a healthy diet.
The youngsters are also able to see and handle a variety of fresh and live species, supplied by Seafood in Schools supporter Scrabster Seafoods.
In addition, they have a chance to taste samples of hot and cold smoked fish supplied by local producer Highland Smoked Salmon.
Other highlights of the roadshow include Catriona Frankitti from the Fish for Health campaign hosting a Come Dine with Cat workshop, where pupils learn about the benefits of exercise and a diet high in "super fish oil" Omega 3.
Ms Frankitti said: "It's really exciting watching the expressions on children's faces when they try something they have never eaten before, then getting a big smile and a thumbs up.
"We have had so many comments from parents thanking us for getting their children into seafood."
Fife firm Sorba-Freeze, is supplying the event, which started yesterday, with dry gel packs to keep the seafood in top condition.
Others supporting the initiative to get more youngsters eating fish and other seafood include Dawnfresh, Daniels Sweet Herring, Orkney Crab, the Scottish Salmon Producers' Organisation and freelance chef Alan Frost.
An extra session took place yesterday so parents, grandparents, siblings and guardians could all join in the activities, which are aimed at creating healthier adults and a more prosperous Scottish fishing industry.
Seafood in Schools is funded by the Scottish Government, Seafish, the Scottish Fishermen's Trust and Scottish Whitefish Producers' Association.
It also relies on in-kind donations and involvement by the fishing and aquaculture industries.