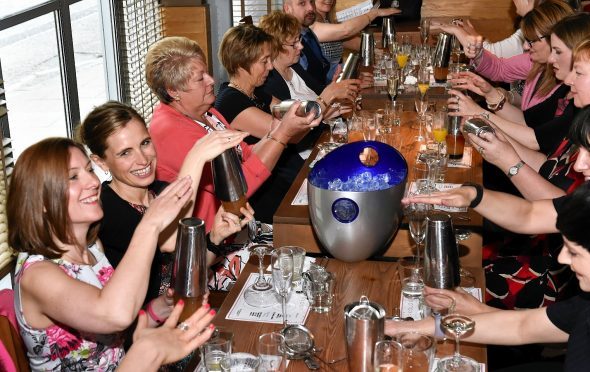 Finalists for the cHeRries Awards 2017, in association with Robert Gordon University's Aberdeen Business School and supported by Mattioli Woods, celebrated in style ahead of the main event next month.
Shortlisted nominees of the awards programme mixed and mingled with sponsors, judges and previous winners at the cHeRries cocktail party hosted by Soul Bar in Aberdeen.
Twenty-five individuals, teams and employers have been selected to go forward to the gala awards night celebrating successes and examples of excellence in the fields of human resources, recruitment and training in Scotland.
A further award – the Top Cherry – will also be unveiled on the night, which is the 10th anniversary of the annual cHeRries Awards ceremony to be held at the Aberdeen Exhibition & Conference Centre Thursday, June 1.
Damian Bates, editor-in-chief, Aberdeen Journals, said: "Tonight is a chance to mix, network and celebrate your success.
"Aberdeen Journals has been involved with the cHeRries Awards for a few years now and we are so pleased to provide a platform for the HR and personnel sector in the region to showcase their successes. People are the lifeblood of all businesses and the HR professionals we are recognising are right at the heart of this.
"I am absolutely delighted you are all here with us tonight and congratulations to all our finalists.
Professor Elizabeth Gammie, head of Aberdeen Business School at Robert Gordon University and sponsor of the event's blossoming awards, said: "The Aberdeen Business School are delighted to sponsor the cHeRries once again. In fact this is our tenth year of sponsorship.
"At Aberdeen Business School we are very proud of our links to the HR community and HR activities that go on in the region. HR is such an important function for all successful businesses. The cherries is a brilliant opportunity to celebrate the success of all the fabulous work that goes on in HR departments in the region."
Kevin Higgins, vice-president, human resources for Petrofac, sponsors of the Tremendous Training & Development award, said: "The cHeRries gives an opportunity to a lot of really great HR people across the north east to show and tell. To let others know what they have done in a way that gives them an opportunity to explain their capability in non-boastful way."
There are only a few tables remaining at the awards event.
Individual tickets cost £160+ VAT while a table of 10 is £1,500+VAT. The price includes a drinks reception, three-course meal and awards ceremony.
Booking forms can be downloaded at www.dctevents.com/event/cherries-awards Or for further information contact please contact Victoria Tait on 01382 575563 or vtait@dcthomson.co.uk