A Lochaber woman is carving out a career for herself in what is traditionally a man's world.
Heather Gibson makes shepherd's crooks and walking sticks – and she even has a royal fan.
HRH Prince Charles ordered 20 of her walking sticks as presents and told her he was delighted with them.
But the 33-year-old who lives on the Fassfern estate near Kinlocheil, is following a long family tradition by making her sticks.
She said: "Both my grandfather and father made them and I used to watch them working when I was little. I suppose it is unusual for a woman to make these sticks, but it is a very old traditional craft."
Ms Gibson explained that they are either made out of wood, antler or horn – which can be ram or buffalo.
"The buffalo horn is imported from either China, Vietnam or India. It takes between 80 and 250 hours to make a single crook or stick as the raw horn has to be filed down and shaped.
"The ends are also carved with different designs – I've done dogs, horses, dragons and even golf balls – they are all unique.
"I don't copy these from pictures or photos, but I visualise what I want to do in my head while I am carving."
Ms Gibson, who is originally from Duns in the Scottish Borders, came to Fassfern two years ago with her partner.
She said: "I used to work at Duns Castle but decided to concentrate on my arts and crafts full-time when I came to Lochaber.
"I was thrilled when Prince Charles ordered my walking sticks. He was delighted with them and gave them to tenants on his estate in Cornwall as Christmas presents."
But the ability to make crooks and different types of walking sticks is not all this talented businesswoman can turn her hand to as she also produces various pieces of needlework, makes jewellery and paints.
"I am entirely self-taught and began sewing when I was four. I enjoy working on different projects and have several on the go at the one time.
"Also I'm a member of the Lochaber Art Club and have completed five paintings for the annual show which starts later this month at the Ben Nevis Distillery outside Fort William.
"But I don't have a particular favourite out of all the things I make – I just enjoy doing them all."
For more information on her work go to www.hgartist.com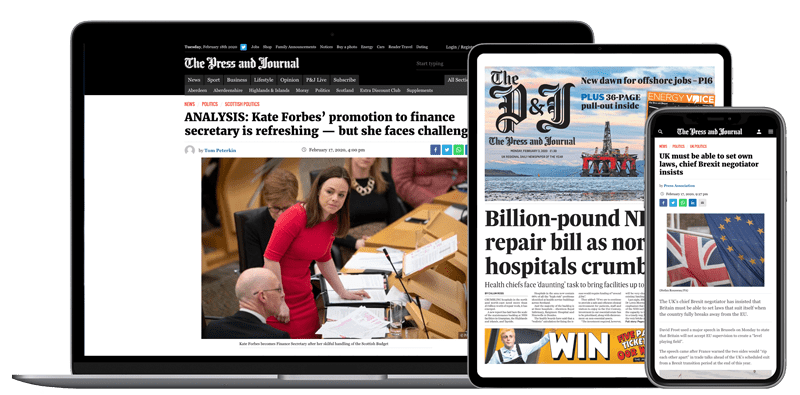 Help support quality local journalism … become a digital subscriber to The Press and Journal
For as little as £5.99 a month you can access all of our content, including Premium articles.
Subscribe