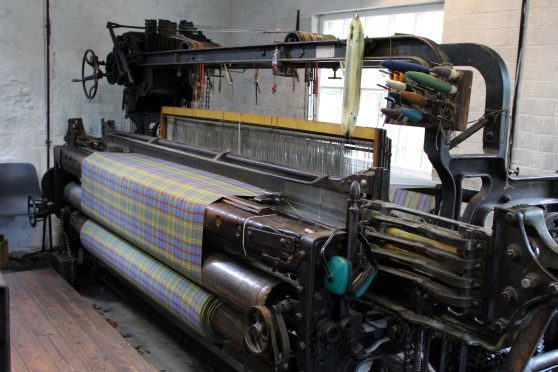 Production at Europe's oldest district woolmill is set to double after the social enterprise that runs the Moray business secured £350,000 funding.
The cash will enable the business at Knockando, which has been manufacturing continuously since 1784, to hire an additional weaver and retain its existing workforce.
The production boost marks the latest stage in the recent renaissance of the mill, which was virtually derelict a decade ago and in 2004 missed out on a £2.5million prize in the BBC's Restoration series.
Knockando Woolmill Trust, formed in 2000, took the business over from its last proprietor Hugh Jones five years years ago.  Having raised £3.5million, including a £1.3million grant from the Heritage Lottery Fund (HLF) the trust completed its restoration of the buildings and machinery in 2014.
Producing a range of woven and spun goods for retail and wholesale, the mill has also become one of the Spey Valley's popular tourist destinations, attracting 28,000 visitors last year.  It currently employs seven full-time staff along with six to eight seasonal posts.
The latest funding has come in the form of a £100,000 grant from development agency Highlands and Islands Enterprise (HIE) and a loan facility of up to £250,000 from Historic Environment Scotland's Architectural Heritage Fund.
The appointment of another weaver will enable the mill to introduce shift work, doubling capacity as the company expands its customer base.  The funding will also be used to buy new equipment and production software.
Nicola Irwin, chair of Knockando Woolmill Trustees said: "All involved at Knockando Woolmill are very pleased that the Architectural Heritage Fund and HIE have recognised the achievements over the past five years and that both have continued their long association with the woolmill by investing in its future, thereby helping it to maintain and expand employment and manufacturing in the Spey Valley."
Fiona Robb, head of strengthening communities with HIE in Moray, said the agency recognised the potential for the mill's products to reach global markets.
She added: "This mill is also a valuable employer in one of our more rural areas and has an important role to play in the cultural attraction of Moray as a region to visit.
"We're delighted to be able to support the Knockando team's efforts to grow their business, improve production and their customer experience and look forward to continuing to work with them as they implement the plans."