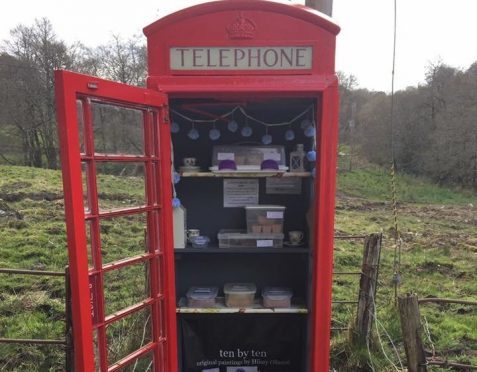 A red phone box standing beside a country road has been transformed into Britain's smallest cake shop.
Friends Holy Ford and Bron Campbell revamped an old telephone box and kitted it out with bookshelves so they could sell their homemade treats.
Their shop, which opened last month, offers a vast range of baking including cakes, brownies, empire biscuits and several delightful tray bakes.
The business, located in the tiny hamlet of Cladich, Argyll, serves just 30 residents but has also become a hit with tourists passing by.
Bron, 36, said the pair were delighted with their venture's success after receiving a huge amount of community support.
She said: "There are no shops or anything in Cladich, just some Highland cows and some sheep.
"Because the red phone box is such a British icon, people seem to really enjoy it. They are finding it really unique.
"A lot of people are taking pictures with it and posting selfies with the box, it's fantastic.
"We've got a lot of baked goods and it brings a lot of happiness."
Bron and Holly bake a range of fresh goods every night and put them on sale at 'Cakes in the Call Box' the following morning.
Their treats are stored in air-tight tubs so that they will stay fresh.
And they have set up an honesty box inside the shop to give customers the choice of how much they want to pay for cakes and biscuits.
Holly, 23, who has been baking since she was a child, said: "I used to bake with my granny when I was little so I grew up baking.
"The phone box gave us both the chance to try a lot of new recipes."
Holly also says that their mini cake shop has attracted attention from much further afield than Argyll.
She said: "It's been really overwhelming. A lot of the time when we are at the phone box we get a lot of passers-by.
"We've had a note from Berlin left in the phone box and a lot of people from down south as well."
Fans of the goodies have taken to Cakes in the Call Box's Facebook page to show their appreciation, with the page already attracting hundreds of likes.
Kiera Smith said: "My sister brought a selection of cakes home and each one was delicious! Can't wait until my next try (especially the blondies). Such a fabulous idea!"
Lorraine Gibson said: "Thumbs up for the flapjack today, just lovely."
Rachel Chapman added: "Been every day after discovering this magic box. Beautiful cakes. Favourites are gingerbread and the custard creams."
The phone box was bought over by the local community as part of BT's adopt a kiosk scheme which was launched in 2008.
It aims to rejuvenate old disused phone boxes and transform them into small services as usage has declined by 90 per cent.
For only £1 the communications company will shut down the phone line and hand maintenance over to communities.
Around 225 payphones have already been adopted in Scotland.
Bron and Holly said they had received support from local artist Hilary Ollason, who helped to give the phone box a makeover with her partner.
The artist has her prints and cards featuring local highland cows for sale in the telephone box which as serves as a gallery for her Ten by Ten Paintings business.
A BT spokesman said that: "The Adopt a Kiosk scheme has captured the imagination of people up and down the country.
"Boxes have been turned into defibrillator kiosks that can help save the lives of cardiac arrest victims, and into art galleries, public libraries, exhibitions and information centres."
With over 4,000 boxes being bought over across the UK, the villagers in BBC Radio 4's long-running drama The Archers have also adopted their kiosk.
And after their box only opening last month, Holly wants to make sure not to take things too quickly.
She said: "We're going to continue for this season. We'll see how the summer goes and take it from there."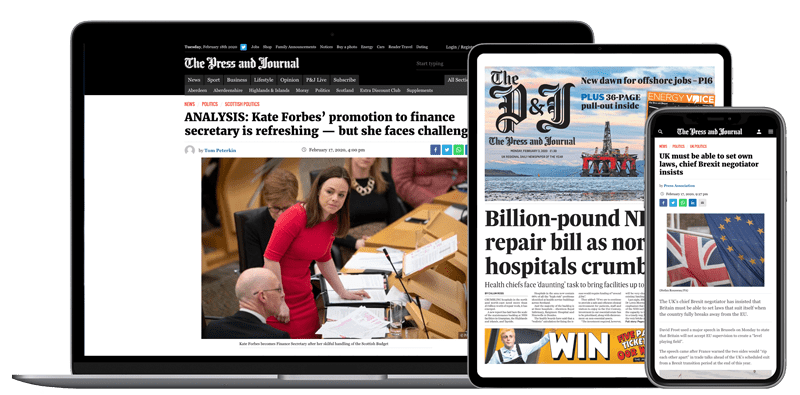 Help support quality local journalism … become a digital subscriber to The Press and Journal
For as little as £5.99 a month you can access all of our content, including Premium articles.
Subscribe