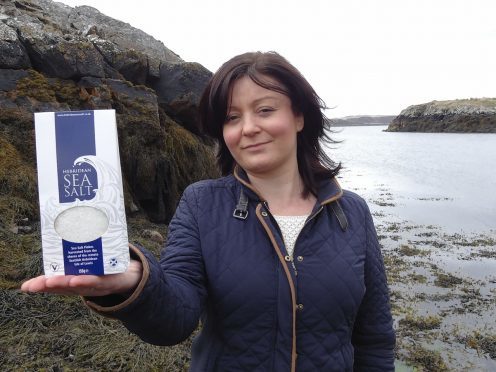 The assets of a gourmet salt manufacturer at the centre of a legal investigation food have officially been handed over to liquidators.
Hebridean Sea Salt was a rising star of Scotland's artisan food industry – but it hit troubled waters over claims its luxury "pure" product overwhelmingly contained shipped-in ingredients.
The company supplied retailers including Sainsbury's, Waitrose, and the Co-op. It also exported to US and Canadian markets and was a firm favourite of many celebrity chefs.
Investigators raided the firm's rented small factory unit factory unit on the shores of Loch Erisort on the east coast of Lewis, seizing large quantities of its output.
As a result, the business closed down following "extreme financial difficulties," according to owner and founder Natalie Crayton.
The company owes creditors over £244,000 and voluntarily applied to be dissolved.
Insolvency practitioners Fiona Grant and Lisa Hogg of Wilson Field were appointed as interim liquidators this week.
Stornoway Sheriff Court was told the firm is "unable to pay its debts as they fall due.
Court documents state: "The directors resolved as the company was insolvent it should be wound up."
A Wilson Field spokesman said: "Under Scottish insolvency law, liquidators are tasked with selling the company assets and distributing the proceeds amongst creditors.
"Calum Jones of Kepstorn solicitors is acting as legal adviser to Wilson Field."
Food industry watchdog, Food Standards Scotland (FSS), maintains "over 80% of the salt found in Hebridean Sea Salt did not originate in the Hebrides, but was imported table salt."
The "scale of deception" is unacceptable and risks jeopardising the reputation of Scotland's food industry for high quality, authentic food products, believed the FSS.
Natalie Crayton strongly disputed that her actions were deceptive and accused the FFS of "bully-boy tactics."
She maintains non-Hebridean sea salt was added to "seed" her own product, previously marketed as hand-harvested from Loch Erisort sealoch – but only in line with common industry practice and "clearly documented in our food safety documentation."
"Seed" crystals can be used in a process of growing or multiplying a batch of salt by adding bought-in crystals into the mix before the sea water evaporation is complete.