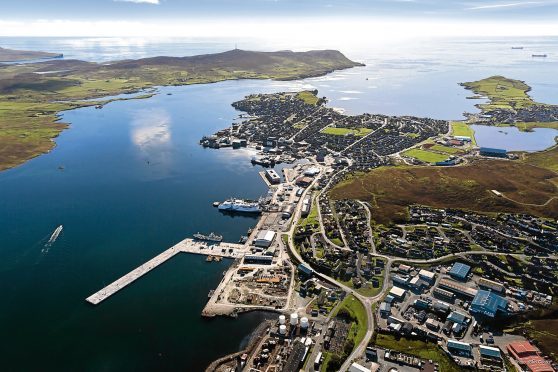 Harbour bosses in Shetland say diversifying their customer base has served them well during the oil and gas downturn.
Figures published by Lerwick Port Authority show turnover in the 12 months to the end of December last year was £11.1million, compared to £11.4million the previous year.
The authority's latest annual review said the figures show the "strength of the diversity of the port's business."
According to the report, oil and gas activity accounted for 25% of the harbour's activity last year, down from 33% the in 2015 and 39% in 2014.
Income from the fishing industry increased by 16% in 2016, while turnover from cruise liner business was up by 79%.
The figures also show the port made pre-tax profits of £3million last year, compared to £3.8million in 2015.
Port expansion projects during the year included the Holmsgarth North Development, now renamed Mair's Pier, and the extension of the quay at the deep-water Dales Voe base.
In the annual report, outgoing port authority chairman Brian Anderson said: "These projects are the platform for further investments by the authority and others.
"Dales Voe can deliver a UK solution for the largest offshore decommissioning projects and Holmsgarth is the new hub of white fish activity at the port, with a new fish market set to be built."
Authority chief executive, Sandra Laurenson, added "There is no end to the ambition of the authority to build new infrastructure, with at least three different deep-water projects on the drawing board.
"However, a pragmatic approach is a defining feature to prioritising delivery."
During the year there were 5,036 vessel arrivals at the port. A total of 57,422 tonnes of fish was landed, with a value of £56.6million.