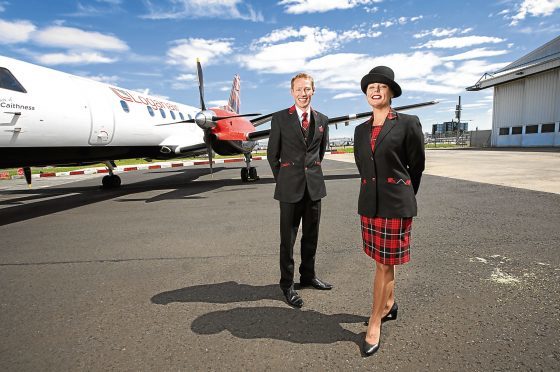 Scottish airline Loganair has unveiled new tartan aircraft livery and cabin crew uniforms as it prepares for take off under its own name.
It also posted a jump in passenger numbers yesterday, saying the 80,000 people who flew with it during July was a record.
Last month's total was an 18% year-on-year increase and comes as Paisley-based Loganair gets ready for a new era after nearly quarter of a century operating under franchise arrangements with other airlines.
Its current partnership with Flybe terminates at the end of August, with the franchise partners going head to head on a number of Hebridean and northern isles routes from September 1.
Loganair will continue to operate all of the existing routes, comprising more than 600 flights a week within Scotland and to Manchester, Norwich, Jersey, Dublin and Bergen in Norway.
The first passenger aircraft to fly in its black, red and white tartan – a Saab 340B named Spirit of Caithness – is already in service. A further 15 aircraft will receive a make-over in the coming weeks.
Loganair has also had its design listed – entry number 11,744 – on the official Scottish Register of Tartans.
It teamed up with Matrix Uniforms to produce on-brand workwear for more than 300 employees, including a touch of tartan for its 90-strong cabin crew, new ties for pilots and red and black outfits, including weatherproof garments, for more than 200 ground staff and engineers.
Managing director Jonathan Hinkles said: "I'm delighted that our exclusive tartan uniforms and aircraft livery will be taking to the skies from September 1.
"The team have worked incredibly hard to make this happen and the results – whether it be our aircraft livery or uniforms – will make a tremendous impression.
"We'll immediately be recognised as Scotland's airline wherever we fly, whether we're landing in Manchester, Bergen or the Outer Hebrides."
Loganair said more than 15,000 passengers flew with it to and from Kirkwall during July, a 14% year-on-year increase and a new record for the month.
Traveller numbers for its flights to and from Sumburgh grew by 17% to nearly 20,000, while the figure for flights to and from Stornoway, Benbecula and Barra was up by 7.5% at more than 13,000. Loganair said its seasonal flights to Bergen enjoyed the biggest increase, up 88%, but did not give a total.
Passenger numbers on the Glasgow-Stornoway route grew by 9% to their highest ever monthly total of 6,753, which Loganair said reflected its efforts to make more seats and low fares available.
Extra flights between Glasgow and Barra – added in anticipation of strong demand over the peak summer period – lifted that route to a record 1,606 passengers last month, up 22% on last year.
Mr Hinkles said: "Our efforts to provide more seats, more flights and more low fares than ever before have been well-received. We're certainly seeing a strong staycation effect this year, with a boom in UK domestic tourism together with more overseas visitors taking advantage of exchange rates to enjoy a break in the Highlands and islands."