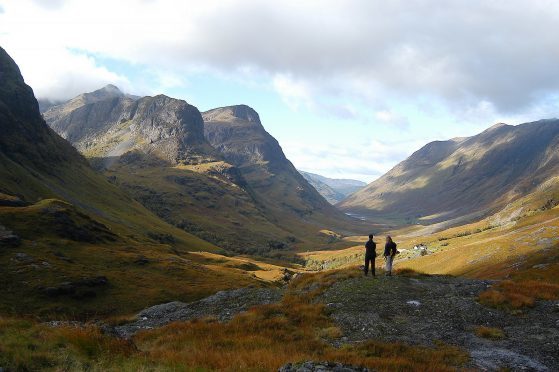 It was a bizarre row over who "owned" a part of Scotland that was the scene of one of the bloodiest episodes in our history – and an anorak.
But now, the National Trust for Scotland has backed down over its legal claim to the name rights of Glencoe.
The conservation charity had written to Hilltrek Outdoor Clothing in Aboyne earlier this month staking a claim, as the land owner, to the trademark for Glencoe after discovering the firm were selling a 'Glencoe DV jacket'.
The move sparked outrage from National Trust members and the general public alike and raised further discussions on the rights and wrongs of trademarking national beauty spots.
However, the Trust and Hilltrek have now come to an agreement over the use of the trademark for Glencoe and have "shaken hands" in a "cordial" meeting.
The new arrangement ensures the Trust recognises Hilltrek's prior rights to the use of the word Glencoe as the name of a particular style of jacket produced and sold by the company.
Director of customer and cause for the National Trust, Mark Bishop said: "When we first took action to protect our properties and the Trust through the application of trademarks, our intention was always to ensure that this protection also sheltered local businesses and communities from exploitative or inappropriate use of the names in question.
"On this occasion, we got it wrong.
"If we had done our homework on Hilltrek before our lawyers contacted them, it would have been clear that this was a Scottish company which has been manufacturing this product with this name for a number of years.  Our first response would then have been to come to a mutual agreement over the issue, which is what we have now achieved.
"I am pleased to say that there will be no restriction on Hilltrek continuing to use Glencoe as before as the name of this product line."
The Glencoe trademark was first registered in 2015 but the Trust said it would not damage local businesses.
The £365 jacket has been safeguarded for the Aberdeenshire shop, much to the delight of director Dave Shand who said: "I am delighted that we were able to come to an agreement so quickly and that Hilltrek will continue to sell our high quality Glencoe jackets.
"As I have said before, the trust does a lot of good work protecting and caring for the places our customers enjoy.  I urge people to go on supporting the charity and the work they do."