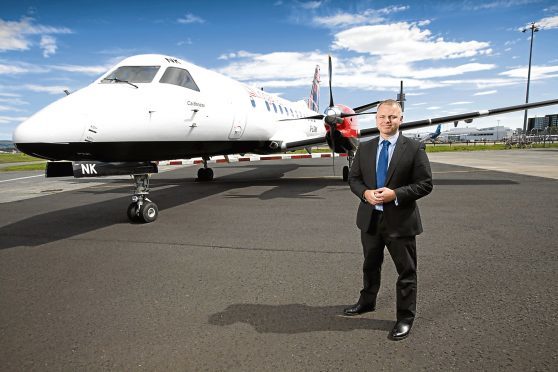 Scottish airline Loganair aims to drown out its biggest rival, Flybe, amid the fanfare of both firms starting to operate independently of each other later this week.
Loganair chief executive Jonathan Hinkles said yesterday Paisley-based Loganair would "just have a louder bagpiper" as the two carriers celebrate their competing services taking off from Aberdeen.
Their longstanding franchise partnership ends on Thursday, with the pair going head to head on a number of Hebridean and northern isles routes from Friday.
A war of words between them has intensified in recent months amid fears a price war could threaten the future of lifeline services to and from the Highlands and islands.
Loganair has spent the past year working on a new booking system, uniforms, social media and travel agent partnerships, while a recently announced codeshare deal should make connections easy for passengers transferring to British Airways services from London.
Mr Hinkles said Loganair aimed to have up to eight codeshare agreements in place within six months and revealed the firm was on the brink of formally announcing a tie-up with bmi regional that will benefit people taking onward connections from Aberdeen, Edinburgh and Manchester.
He added: "We are involved in a number of discussions with other airlines – some we approached and others who approached us. They include some pretty big names."
Loganair's boss said there would inevitably be pressure on prices, meaning good deals for passengers, with Flybe competing for business under a partnership with Eastern Airways on routes to Orkney, Shetland and the Western Isles.
But he also repeated previously reported misgivings about the economics of two operators battling for supremacy in a market where "we don't think there is room for two".
"We have been serving this market for over 50 years," he said, adding: "It is not just about putting bums on seats. We are very confident that we will be able to continue doing everything we can in terms of price and service to serve the customers we serve.
"For as long as this (competition) lasts, there will be more seats available at cheaper fares … and (afterwards) we will still be here and getting on with the day job of providing lifeline services."
He said Loganair was "in good shape" in the run-up to Friday after a record summer, with more than 80,000 passengers carried under the franchise with Flybe in July alone.
Flybe said chief executive Christine Ourmieres-Widener was happy to speak "at length" sometime over the next couple of days.