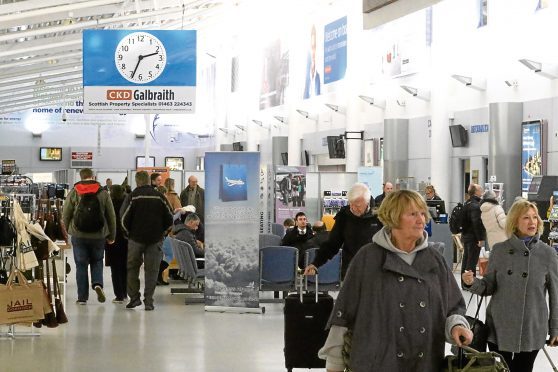 Bosses at Inverness Airport say it is on course to set a new record for passenger arrivals, landing an economic boost of at least £75million for the north.
At more than 93,000, the number of travellers using the terminal in July was the highest monthly total since it opened and, according to operators Highlands and Islands Airports Limited (Hial), it is enjoying the longest period of sustained growth in its 77-year history.
The total number of inbound passengers is expected to hit 237,000 this financial year.
Boosted by a 64% increase in flyers using direct international links with Amsterdam Schiphol and Dublin in the second quarter of this year compared to the same period in 2016, the soaring figures were welcomed by Scottish Transport Minister Humza Yousaf and local business leaders. Mr Yousaf said the Scottish Government, which owns Hial, would work with it to develop new routes and more capacity on existing ones.
Hial, which operates 10 terminals across the Highlands and Islands and Dundee Airport, say the record of year-on-year growth at Inverness now stretches 17 months.
Chief executive Inglis Lyon said, along with a 25.3% increase in travellers to 829,018 in the last financial year, the latest figures make Inverness one of Scotland's fastest growing airports. He continued: "Right now, the 2017-18 figures are on track to deliver 237,000 inbound business and leisure passengers to Inverness, which is worth a conservative £75million per annum, based on acknowledged visitor spend figures.
"Like other parts of Britain, the Highlands is benefiting from increased visitor numbers as the value of the pound has dropped, making the UK a more attractive holiday destination."
Mr Yousaf said the statistics showed the airport was continuing to go from "strength-to-strength". He added: "The launch of additional services to Amsterdam and London is really paying dividends and this improved connectivity is supporting both our tourism sector and Scottish businesses looking for better access to global markets.
"There is no doubt Inverness Airport plays an important role for the local and national economies and I congratulate everyone involved.
"We look forward to working with HIAL to build on this success, with new routes and more capacity on existing routes."
SCDI regional director, Fraser Grieve, said: "Continued growth through Inverness Airport shows the impact their improved connections and increased routes are having on the Highlands, with many hotels and visitor attractions reporting bumper trade."
Comment, Page 25