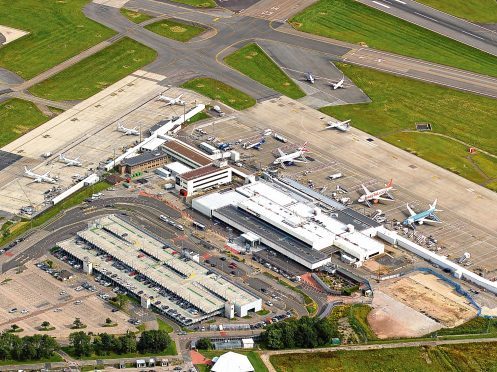 A fourth consecutive month of rising passenger numbers at Aberdeen International Airport (AIA) reflects growing confidence in the north-east economy, the terminal's boss said yesterday.
A total of 292,607 travellers used the north-east gateway last month, which was a 3.1% increase on the 283,739 people flying in and out in August 2016.
The latest year-on-year increase, following growth in May, June and July, was helped by improved numbers for both domestic and international services.
AIA managing director Carol Benzie said: "We believe that these increases continue to reflect a heightened level of confidence across the north-east.
"Our terminal transformation project is now within its second phase of construction which, when completed, will bring much improved facilities to support our increasing passenger numbers. We continue to urge our regular passengers to be patient during these ongoing construction works."
The airport's £20million extension project has already seen the introduction of a new arrivals and baggage reclaim area. Further work to improve the facilities is due to be completed by 2019.
AIA said helicopter business continued to suffer last month, but the year-on-year 4.5% decrease in passengers was not as sharp a drop as in previous months.
Total fixed-wing traveller numbers grew by 4.2% to 256,964, with domestic and international services seeing increases of 5.9% and 1.9% respectively.
Bosses said overall growth continued to "demonstrate the popularity of newly introduced and existing leisure routes, as well as the demand for the increased domestic route offerings from Aberdeen".
Figures for September are expected to include an impact from the airport closing on Sunday after surface damage was found on the runway.
AIA is owned by Spanish group Ferrovial and Macquarie Infrastructure and Real Assets – part of Australia's Macquarie Group – under a joint venture, AGS Airports.
More than 1.4million people passed through Edinburgh Airport last month, making it the busiest August on record for the Scotland's busiest terminal. The total fell just short of its best ever month, July 2017, when it was used by 1,413,272 passengers.
Glasgow Airport also enjoyed its busiest August on record, with more than 1,008,800 passengers chalked up – a 7% increase on the same period last year.
Long-haul routes from Scotland's largest city were up 16% as the airport registered 1million-plus passengers during June, July and August for the first time in its history.