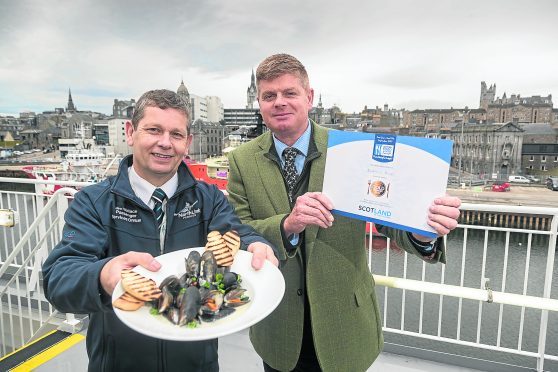 A ferry company which carries travellers around the north and north-east of Scotland has secured the top award for its efforts at championing local food and drink.
NorthLink Ferries, which is operated by Serco and provides ferry routes to Orkney and Shetland from Caithness and Aberdeen, was crowned the winner of the Scottish Food and Drink Fortnight 2017 business challenge.
This is an initiative which encouraged all businesses to change just one thing to promote Scottish produce.
During the fortnight, which ran from September 2 to 17, the ferry operator introduced Shetland mussels onto their menus for the first time, offering passengers the opportunity to taste a quality locallysourced seafood.
The company also continued to promote their regular local suppliers, including Stockans Oatcakes, Orkney Brewery, Shetland Farm Dairies and awardwinning Shetland based social enterprise company Cope Ltd, their main sandwich supplier.
Fiona Richmond, head of regional food at Scotland Food and Drink, said: "This takes place every year and it's a fantastic way of celebrating our growers, producers, chefs and restauranteurs, as well as our vast and delicious Scottish larder. NorthLink Ferries did a tremendous job of getting involved and really embraced the ethos of changing just one thing to promote Scotland's food and drink, which is why they are receiving this gold award."
Seumas Campbell, customer service director for Serco NorthLink Ferries, added: "The campaign is a great way of recognising the country's fantastic range of suppliers and produce and we couldn't think of anything better than joining in to showcase the contribution the north-east, Caithness and the Northern Isles make to our menu options.
"Our passengers often comment on the great selection of fresh, locallysourced meals provided on board and with the introduction of Shetland mussels we offered a new element to the menu for the fortnight, alongside Shetland lamb which has been a staple on our menus over the years."
Meanwhile, the silver business award went to food wholesalers Brakes, which has Scottish bases in Inverness, Oban, Dundee and Newhouse. Brakes used the Fortnight to launch a new Scotch beef range and hold a cookery masterclass for their sales team which was judged by Masterchef professionals winner, Gary Maclean.
Insurance providers, NFU Mutual won the Bronze award for their excellent use of social media during the fortnight.