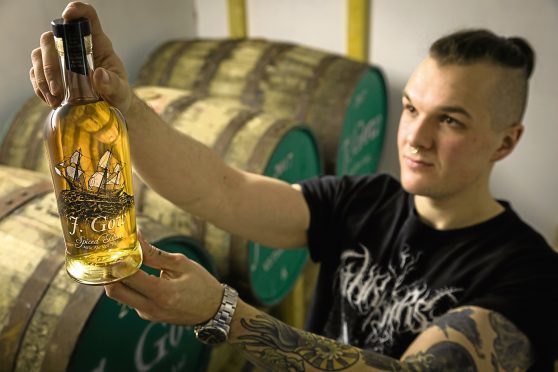 Pirates are usually associated with the Caribbean but one Orcadian seadog will have his name branded on the newest alcoholic offering from the islands' first rum distillery.
J. Gow Rum, named after the famous John Gow who was executed in London for his crimes in 1725, will hit the shelves today after the first batch was bottled and labelled by VS Distillers in Orkney.
The spirit is the latest Scottish rum to be produced after Jim and John Ewen launched the country's first, Dark Matter, in 2016.
VS Distillers is a new venture by Collin van Schayk.
Based on the small island of Lamb Holm, Collin is the son of Orkney Wine Company founders, Emile and Marjolein van Schayk.
Part of the firm's premises were specially adapted and zoned off for rum production, with two 2,000-litre molasses fermentation and distillation stills installed.
Highlands and Islands Enterprise (HIE) assisted with the equipment and marketing costs of the project.
Production of J. Gow spiced rum began in April. The company is also importing barrels from Italy and France, with plans to lay down and mature spirit for future releases.
"We were looking at how we could diversify the business and do something different that wasn't gin, or whisky," said Collin van Schayk. "It's a first for Orkney and fits in well with the seafaring traditions of the islands, and our location on the shore of Lamb Holm.
"You also can't get away from pirates when it comes to rum, so we decided to embrace that element and connect the brand with Orkney's very own privateer, John Gow."
Collin said creating and bringing the new rum to the market had been a long process.
"We first applied for a licence in January of last year and, naturally, there were several hurdles to jump before production could begin," he said. "Our track record in wine production and our understanding of the fermentation process certainly gave us a head start, but it was still a steep learning curve at times."