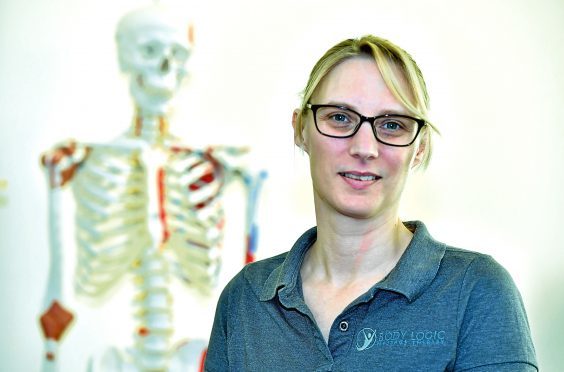 Each week, we ask businesses key questions.
Here, we speak to Lori Smith who runs health and wellbeing business Body Logic in Peterhead.
How and why did you start in business?
I'd had a number of remedial massages myself and always had a passion for health and helping people, so after years of various jobs I decided this was what I wanted to do.
I contacted Scottish Massage Schools and retrained as a massage therapist. Once I qualified, I started my own business – initially mobile, then after a few months, I set up a clinic in Burnside Business Centre in Peterhead.
How did you get to where you are today?
Once I qualified in Swedish massage, I went on to gain my diploma in remedial and sports followed by sports events massage.
I have gained my diploma in oncology massage, and am learning new skills that will allow me to help my clients. In August last year, my colleague Angela Mitchell joined me and I have never looked back.
Who helped you?
My family have always encouraged and supported me in everything I do, including being case studies and letting me practice techniques on them.
My fiance, Duncan, has been an amazing support and I wouldn't be where I am today without him.
He has put up with so much, including my meltdowns while I was studying and going through exams.
I am also a member of the Federation of Small Businesses, who are great.
If I have any questions on business, they are always helpful and at the end of the phone.
What has been your biggest mistake?
In life you have to make mistakes to learn and it's the same for business.
I don't see it so much as a mistake but a learning curve.
What is your greatest achievement?
Being asked to be a course leader with Scottish Massage Schools. It's amazingly rewarding to teach people the skills I have learned and to support them on their new paths.
If you were in power in government, what would you change?
I would make sure there was more funding for sports for kids.
What do you still hope to achieve?
I have recently started my diploma in advanced remedial massage so that's the next thing on my list. I also have a zest for learning so who knows what will come next.
What do you do to relax?
I love hillwalking – there's nothing quite like it to clear the cobwebs away. I also enjoy spending time with my family when I can.
What are you currently reading, listening to or glued to on the TV?
I don't watch much TV but if I do, it's programmes like NCIS or CIS.
What do you waste your money on?
Books but I don't think that's a waste. I do like chocolate though.
How would your friends describe you?
"Crazy lady" has been mentioned before.
What would your enemies say about you?
We'd all like to think we don't have any.
As I've got older, I've realised it's not worth worrying about what others think about you.
I have amazing friends and family and that's what matters.
What do you drive and dream of driving?
I drive a Freelander and love it but I wouldn't say no to an Aston Martin DB9.