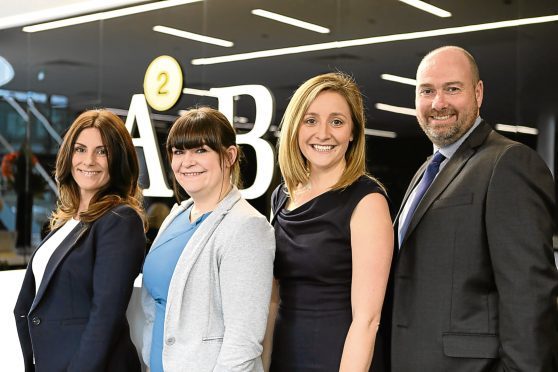 Accountancy firm Anderson Anderson & Brown (AAB) has beefed up its senior team with a string of promotions and new hires.
The Aberdeen-based practice said the move was prompted by "continuous growth and a clutch of new client wins, both in the UK and overseas".
Joining the firm as new directors are Kevin Meaney and Helen Brown.
Mr Meaney's particular area of expertise is providing accounting and advisory advice and support to entrepreneurial clients in "numerous different areas".
A spokeswoman for AAB added: "This has been gained from senior roles with HM Revenue and Customs and within practice, at Big Four, national and independent firms."
Ms Brown has re-joined the firm, having previously trained and qualified with AAB before gaining significant industry experience – most recently at Aker Solutions, where she was responsible for all taxes including reporting, compliance, advisory and strategic issues, including customs duties. Her focus at AAB is on international tax.
Elsewhere at AAB, Gary Johnstone has been promoted to director.
Mr Johnstone has played a key role in the development of the firm's payroll and employment taxes team, which has evolved from providing payroll services to also cover a wide range of employer-related advisory and compliance issues.
A particular focus of Mr Johnstone is growing the firm's global mobility service.
Three other promotions withing the business have seen Elizabeth Milne, Lisa Tait and Karen Groat elevated to senior management roles.
Managing partner Graeme Allan said: "We are delighted to welcome Kevin and Helen to AAB at the same times as recognising the promotions of Gary, Elizabeth, Lisa and Karen.
"This is an exciting time for AAB as we look to develop a number of new growth initiatives and expand our operations into new locations, with a particular focus on Edinburgh and London." AAB was formed in 1990, when Mike Brown teamed up with two colleagues, Bobby Anderson and Sheena Anderson, to found the business.
It has gone on to grow its reputation globally, while picking up a string of accolades along the way.