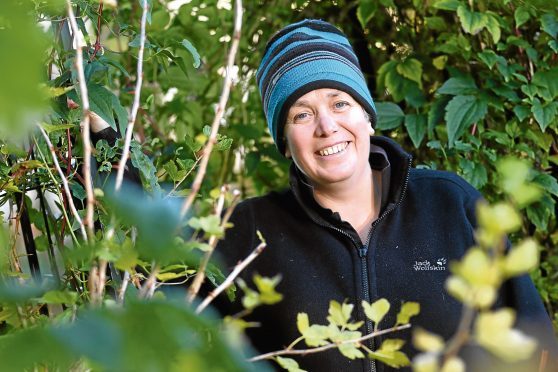 Each week we ask small businesses key questions.
Here, we speak to Kirsty Reid who runs the Teeny Weeny Farm at Dyke, near Forres.
How and why did you start in business?
I grew up in Forres but left to go to university, where I studied history, did a PhD, and then became a university lecturer.
I worked in universities for a long time, but got fed up being at a desk and longed to return to Moray.
So, in 2011, I took a leap into the unknown, ditched my career and came home. We bought a house in the village of Dyke, near Forres, with a garden of just under an acre.
How did you get to where you are today?
The original idea was to grow our own food and we do still grow lots of fruit. However, flowers and herbs quickly stole my heart, and so that's become my focus.
Britain is one of the largest consumers of cut flowers in the world, and yet almost all the flowers for sale here are imported. Many imports are grown in appalling conditions, using lots of chemicals, and with very negative impacts on land use, water resources and food production for the local people, never mind the air miles.
Until a few decades ago, there was a large UK cut flower growing sector and I'm excited to be part of a recent resurgence.
We use organic methods and grow as sustainably as we can. Bouquets made from naturally grown flowers and herbs have a vitality, beauty and scent all of their own.
We've already started to sell directly to brides, many of whom want what we call DIY buckets to arrange themselves, and also to local florists. Who helped you?
My family and friends have been brilliant and my husband, Chris, especially so.
I've recently gone into partnership with a friend, Wendy Davidson, who lives in the nearby village of Brodie, and we make a great team.
I wouldn't be where I am today without the UK-wide members' network called Flowers from the Farm, which supports cut flower growing across the country.
A friend with many years' experience in running his own businesses also advised us to join the Federation of Small Businesses and its support has also been invaluable.
What has been your biggest mistake?
Not getting started when I first had the idea. I first thought about growing cut flowers in 2012 but it took me several more years to take the plunge. It's been a huge learning curve but I am loving the adventure.
What is your greatest achievement?
As you get older you measure your achievements differently. If you'd asked me 15 years ago, I'd have said getting my PhD or something like that. But now, I'd say having the courage to sit with my incredible dad when he was terminally ill.
If you were in power in government, what would you change?
Everything.
What do you still hope to achieve?
We recently took some of our herbs and flowers to a local nursing home and had an amazing afternoon with the residents. I'd like to do more of that. Scent is a stimulant for memories.
We're also working hard developing biodegradable Christmas wreaths, using little or no wire, and with handmade wreath bases woven out of materials including blackberry, willow, birch and hazel. We've built connections recently with some green or woodland burial grounds and we will be looking to develop our funeral work in 2018.
What do you do to relax?
I look at seed catalogues and add yet more flowers to my wish-list. It's an addiction. I also love reading detective novels, walking our labradors, watching movies with my husband and swimming at Findhorn.
What are you currently reading, listening to or glued to on the TV?
I've just finished watching Gunpowder on the BBC.
It was brilliantly done and gave a much clearer explanation of Guy Fawkes than we ever got in school. I had to cover my eyes for the violent bits though.
What do you waste your money on?
Seeds and plants.
How would your friends describe you?
She grows gorgeous flowers.
What would your enemies say about you?
She grows gorgeous flowers.
What do you drive and dream of driving?
I don't drive – odd I know – but I do have a bike and Wendy has a pick-up truck, and we love running around in it delivering flowers. It's a great life.