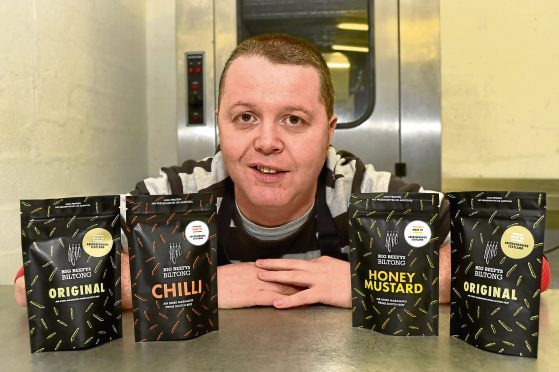 Each week, we ask small businesses key questions.
Here we speak to Colin Thain, owner of Big Beefy's Biltong in Turriff.
How and why did you start in business?
Originally from Caithness, I studied for a Higher National Diploma in catering at Thurso College before starting my career as a chef.
I ended up, in 2001, as head chef at Howies in Chapel Street, Aberdeen.
By 2009, I felt that cooking was taking over my life and it was time for a complete break so I became a radiation protection supervisor in the oil and gas industry. It was very different to cooking and exactly what I needed.
In 2008, during a visit to New York to see a Canadian/South African friend, I was introduced to his father, Paul Geard. He in turn introduced me to biltong and the rest is history.
Biltong is a dried, cured meat originating in southern Africa – and it's delicious.
Paul had fallen in love with it and he now makes it for himself in Canada, where he lives.
After trying biltong for the first time and enjoying its exquisite flavours and taste, I too fell in love with it.
On returning to Scotland, I found it really hard to find good quality biltong and so I decided to follow Paul's example and make it for myself.
Many friends, including James Daniel, now a creative designer at CRE-ATE in Edinburgh, pushed me to start selling my biltong wholesale and online.
James – an aspiring web designer – suggested that if I started a business, he would do my website for nothing.
Big Beefy's Biltong was born in November 2013 and to this day I still use the original dryer that Paul's daughter, Theresa, sent me from South Africa to prepare the 100% Scottish beef that I use.
How did you get to where you are today?
By never giving up on my dream of owning my own food business.
The career move from cooking to offshore oil and gas work gave me a new-found confidence, and I've always believed that the sky's the limit and that we can all make incredible things happen if we put our minds to it and really try.
Who helped you?
James and Paul helped me to get started and support from Business Gateway/Elevator, Opportunity North East and the Federation of Small Businesses has been invaluable.
Anyone wanting to start up or grow a small business in north-east Scotland should make use of all of these organisations.
What has been your biggest mistake?
Rushing to get my new range of snack packs out to the retail market. I took delivery of 10,000 packs and only when I checked them did I realise that I had forgotten to add the all-important bar code. I believe in learning from mistakes and moving on – what else can you do?
What is your greatest achievement?
I love seeing my products in local deli shops and pubs and get a real buzz when random people praise Big Beefy's on social media.
If you were in power in government, what would you change?
I would love to see Scotland gain independence. We have such amazing food and drink businesses here, and I have no doubt that we would prosper.
What do you still hope to achieve?
To sell a full pallet of Big Beefy's Biltong to a single customer would make me very happy indeed.
I'm getting there.
What do you do to relax?
I like to get away on holiday and I'm very lucky that I have a special group of friends on Long Island, New York. I go to visit them whenever I can and it really helps me to relax.
What are you currently reading, listening to or glued to on the TV?
I love watching The Apprentice and picking up some tips from Lord Sugar, plus I'm reading Sir Alex Ferguson's inspirational leadership book.
What do you waste your money on?
Diesel jeans – at the last count I had 15 pairs in my wardrobe – but I don't really see it as wasting money. They make me feel good.
How would your friends describe you?
Funny, outgoing, loyal, laidback and sarcastic.
What would your enemies say about you?
I don't make enemies as I'm far too easy-going.
What do you drive and dream of driving?
I currently drive a Ford Focus but would love to drive a Ford Mustang. I once hired one in Las Vegas and drove it to the Grand Canyon, which was an amazing experience.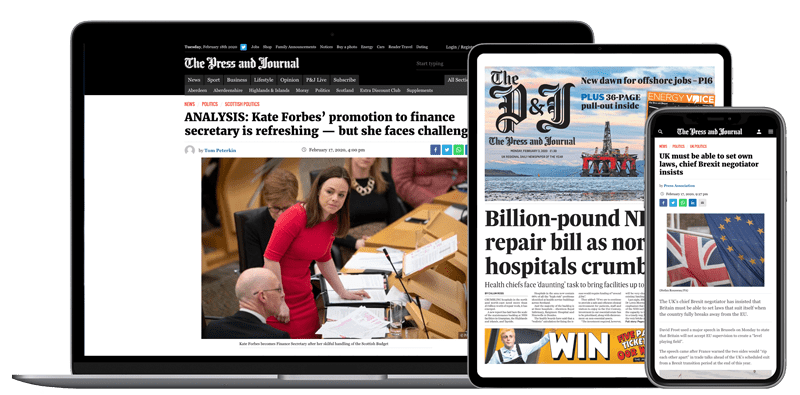 Help support quality local journalism … become a digital subscriber to The Press and Journal
For as little as £5.99 a month you can access all of our content, including Premium articles.
Subscribe