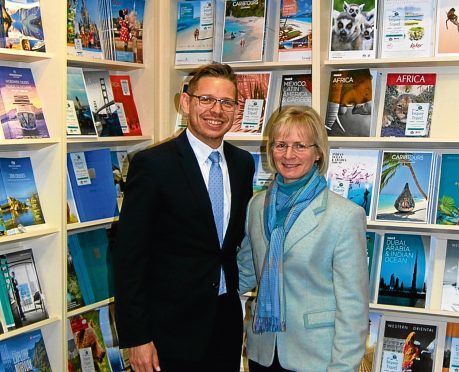 Glasgow company Clyde Travel Management has expanded its presence in the north of Scotland with the acquisition of long-established Moray business Beaver Travel.
Part of the Clyde Group, the firm also owns Inverness-based Alba Travel, which it acquired in 2007.
Launched in 1973, Beaver Travel, which has outlets with cafes in Forres High Street and Elgin's South Street, was taken over by Ian and Fiona Widdowson in 1999.
Mrs Widdowson continued to run the company after her husband died following a road accident last year. A well-respected figure in the Moray business community, Mr Widdowson led successful efforts to attract the annual European Pipe Band Championships to Forres.
A spokesman for the Glasgow company declined to comment on how much it had paid for the travel agency, but said the existing workforce would be remaining with the firm. Clyde director Paul Cronje, said: "We are delighted to have Beaver Travel join the Clyde family.
"It is a brand we have long admired as friendly competitors to our own leisure division, Alba Travel, but also as fellow partners within the Advantage Travel Partnership, the UK's largest independent travel agent group.
"Both brands are established institutions in their own communities, having both been in existence for over 40 years. We already enjoy a lot of shared values and I'm sure we will learn many good practices from each other as we move forward."
In a statement, Clyde also said the Moray team would benefit from further investment in training and technology as part of the roll-out of its five-year digital strategy.
Mrs Widdowson said: "We are confident that under the management of Paul Cronje and his team, Beaver Travel will continue to serve the communities it operates in with the professionalism, expertise and kindness it has done for the last 40 years.
"We would like to thank everyone for their support and loyalty over the past 18 years we have been involved, and in particular we thank the fantastic team at Beaver who make it the business it is."
Based in the Hillington Park area of Glasgow, the Clyde Group was established in 1986 to provide support services to the marine industry.
Its collection of companies is now involved in sectors including cadet and safety training, recruitment, healthcare uniforms and workplace safety as well as business and leisure travel.
Clyde Travel Management was launched in 1989.