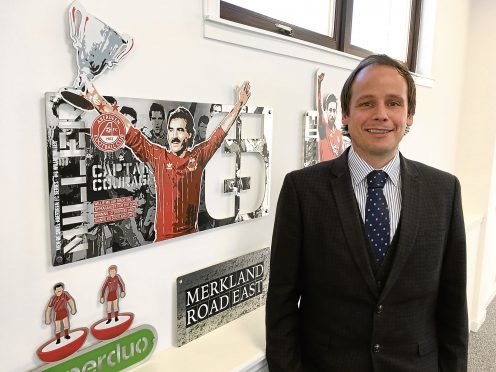 Some of football's most iconic moments have been given a "heavy metal" overhaul in a new business venture aimed at raking in half a million pounds.
Images depicting Dons' Gothenburg Great captain Willie Miller lifting the European Cup Winners' Cup now feature on sheets of steel to be displayed as wall art after communications firm Jasmine designed, engineered and printed in-house the images in partnership with Aberdeen Football Club and Manchester United.
The Metal Gallery sales site and supporting social media channels were launched at the end of November and the company is now processing its first orders.
In the first week a total of 50 orders were received, which includes sales made in the AFC club shop at Pittodrie. Pieces are also going to be created in collaboration with West Ham Football Club and discussions are under way with a number of other sports, entertainment and music brands to increase the product offering.
Danny Cowie, managing director of Jasmine, said he hoped the art would generate £500,000 in sales in the first year.
He said: "This is a project we have been working on for many months. It started off as an in-house project combining the talents of our creative design team, the engineering skills of our associate company, James Aiken Engineering Solutions to take the designs and precision cut on lightweight aluminium before being printed and finished on our large format flat-bed printer.
"The prototypes have attracted a great deal of interest in the world of sport as well as arts and entertainment. We have some really exciting announcements lined up for early next year, beginning with West Ham United. We are also in discussions with a number of SPFL and English Premier League clubs and have several other leading brands lined up from the world of rugby union, music and television."
Jasmine is an Aberdeen based communication business with 46 employees. It is part of Jasmine Holdings which includes the engineering and fabrication business, James Aiken Engineering Solutions Limited.