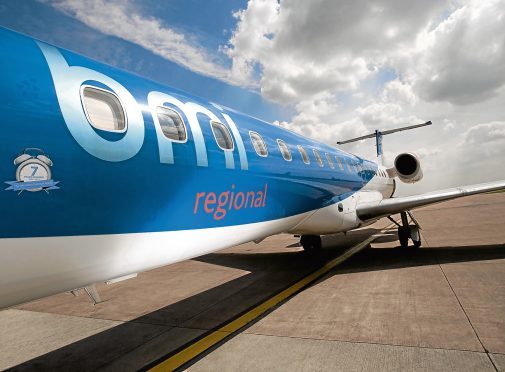 Hefty losses at bmi regional have sent the airline's parent deeper into the red.
Accounts for Airline Investments, which also owns Scottish airline Loganair, show pre-tax losses widened to £4.9million during the year to March 31, 2017, from £3.9million in 2015-16.
However, the firm's turnover grew by nearly £16million to £182.1million.
In its review of 2016-17 trading, Airline Investments said its bigger losses came after a £1.7million notional charge for loan interest payments waived by the principle shareholders.
The business is majority-owned by Peter and Stephen Bond, who also waived loan interest payments the year before.
Bmi – whose headquarters were relocated to East Midlands Airport from Aberdeen just a few years ago – suffered pre-tax losses of nearly £5.8million, excluding notional loan interest.
A report by Aviation Investments chief executive Peter Simpson in the group accounts said the terror attacks in Brussels in March 2016 "severely" impacted bmi's services into Belgium's capital.
He added: "Volumes into Brussels have now returned to normal. However, the weakness of the pound and increasing price of jet fuel also adversely affected the results.
"Bmi regional continues to concentrate on its core strategy of serving niche markets which have a high proportion of business and corporate traffic, and is pleased to report further growth of both its scheduled and charter operations.
"Due to this continuing growth post year-end, bmi has increased its fleet by leasing two additional Embraer 145 aircraft from Hop!, the Air France subsidiary, which is the first increase in fleet since the business was bought in 2012, and brings the total number of aircraft to 20."
Bmi carries about 1.5million passengers annually on more than 400 scheduled flights a week across a network of 46 destinations in 11 European countries. It also has growing charter business and flies on a contract basis on behalf of other carriers.
Its scheduled services include flights from Aberdeen to Bristol, Norwich, Esjberg in Denmark and Oslo in Norway.
Loganair and bmi trade as separate sister airlines, each with their own management teams and brand identities.
The Bond brothers created Airline Investments in 2015 after Stephen Bond bought outright control of Paisley-based Loganair.
The duo also splashed out £8million to acquire the then Aberdeen-based bmi from a group of aviation industry entrepreneurs trading under the name Sector Aviation Holdings (SEH), which had previously rescued the airline from potential oblivion.
Last week, Loganair revealed it had turned to its bank and shareholders, including Stephen Bond, for new funds to cover the start-up costs of re-launching the business as a standalone airline.