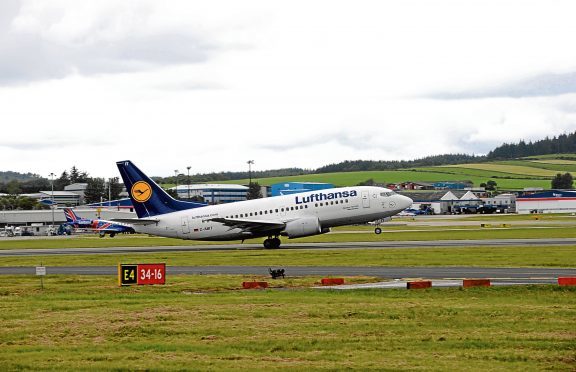 North-east air links have suffered a massive blow after German flagship carrier Lufthansa axed its flights from Aberdeen to Frankurt.
The twice-daily flights from the Granite City – there were three a day before the oil price slump – will end on March 25, with the airline saying the route is no longer commercially viable.
It means Aberdeen International Airport (AIA) has lost a key link as these flights are the only ones connecting the region directly with Germany, an important tourism market, while business and leisure passengers are losing access to global connections through one of Europe's biggest avation hubs at Frankfurt.
AIA managing director Carol Benzie said it was "extremely disappointing". She added: "We are highly committed to strengthening our route network and will be endeavouring to explore all possible alternative connectivity options into Germany for the future."
Chris Foy, chief executive of tourism body VisitAberdeenshire, said Germany would continue to be an important market for inbound tourism, adding: "Visit Aberdeenshire will continue to work closely with Aberdeen International Airport and airlines to ensure the north-east of Scotland remains accessible to key international markets."
Andrew Martin, director of the Scottish Centre of Tourism at Robert Gordon University, said: "It's not just the fact that we lose our only direct flight to Germany but this also sends an unfortunate message to the marketplace. There will be a loss of tourism in our region as a result."
Aberdeen and Grampian Chamber of Commerce policy and research director James Bream said connectivity to major airports was "critical" for success of the north-east economy.
Mr Bream added: "While we retain our links through London Heathrow and Schiphol (Amsterdam), the loss of this direct route to Frankfurt must act as reminder to the government and regulators that Aberdeen's ability to contribute as it does to the UK Exchequer depends on our international connectivity and ability to do business around the world."
A spokesman for Lufthansa, which launched the flights in 2011, said: "Despite substantial sales efforts this route was found to be commercially not viable."
Passengers booked on flights after March 25 will be re-booked on alternative services, he said, adding: "Lufthansa will exercise maximum flexibility for possible cancellations/refunds."