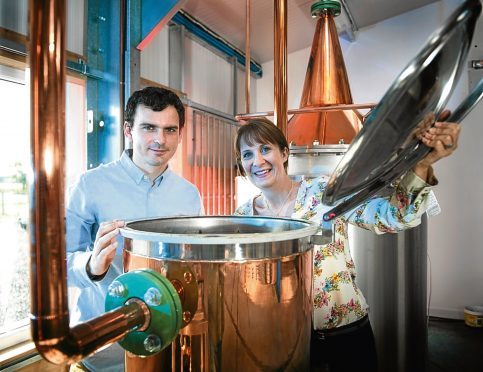 The owners of a family-run micro distillery have joined forces with local conservationists to boost stocks of wild juniper on mainland Britain's most northerly peninsula.
Martin Murray, co-founder of Dunnet Bay Distillers, hopes the long-term project will eventually yield enough berries to use in production of its award-winning craft gin.
The company, which currently imports juniper from Bulgaria and Italy, is working with Caithness Biodiversity Group (CBD) on the scheme, which has received funding from Highland Council.
Surveys of the "almost tundra-like" landscape of the headland, 11 miles from John O'Groats, by Caithness Field Club, identified high density "hot spots" of the evergreen conifer as well as parts suitable for its growth, where only isolated shrubs were found. Further survey work was undertaken by CBD members, who believe areas of juniper may have been destroyed by uncontrolled heather burning on the peninsula.
Cuttings of the plants have been sent to nurseries to be propagated, with the aim of replenishing stocks on the fire damaged areas of moorland, which would be cared for by CDB volunteers. A juniper nursery has also been set up at the distillery.
Mr Murray, said the project could take up to 10 years to bear enough fruit to use in production of the firm's Rock Rose gin, but would be "worth the effort".
He added: "The conditions are completely different up here and things that may work in southern Scotland or Wales wouldn't stand a chance here.
"It would be great to one day release a bottle of Rock Rose that uses our own juniper, but I think that is still a few years off."
Dunnet Bay Distillery, which employs 12 people, was set up by Mr Murray and his wife Claire in 2014 and also produces Holy Grass vodka.
Growing demand for its products and an increase in tourism in Caithness, driven by the popularity of the North Coast 500 road trip route, saw the firm announce a £248,000 expansion plan last year.
The project includes installation of another still and development of a visitor centre and shop, as well as a new warehouse.
Berries from native common junipers were once widely used by UK distilleries to flavour gin, but now stocks tend to be imported. In the north, juniper grows on acid soils on cold, rainy moorland alongside heather and bilberry. Its berries are also used in cooking game dishes.