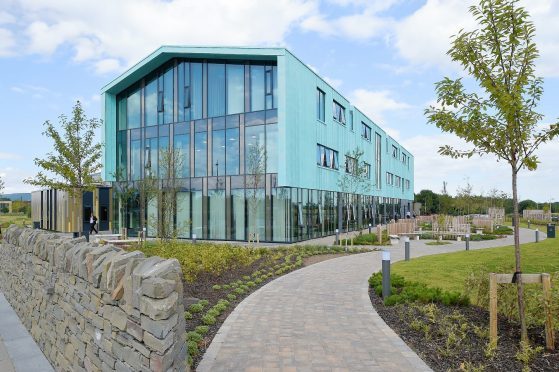 The headquarters of the north's economic development agency could be impacted by the collapse of construction giant Carillion, it has emerged.
Highlands and Islands Enterprise (HIE) has confirmed that the firm, which entered liquidation earlier this month, had the facilities management contract for its An Lòchran base in Inverness.
The Centre for Health Science, which is also owned by HIE and based at the Inverness Campus, was also served under a Carillion contract.
However, the agency said that both operations were delivered by a subcontractor and that talks were being held to "ensure continuity of service".
The collapse of Carillion, the UK's second largest construction firm, has left a question mark hanging over a number of projects that it was involved in, including the timetable for the completion of the Aberdeen bypass.
One of the company's joint ventures, CarillionAmey, also holds repair and maintenance at many UK military bases, including Fort George, as well as RAF Lossiemouth and Kinloss Barracks in Moray.
Meanwhile, the firm had a facilities management contract with oil giant Shell, which has its North Sea headquarters in Aberdeen.
Economy Secretary Keith Brown provided a full list potentially affected contracts following questions in Holyrood by Scottish Labour.
He said: "We are continuing an extensive exercise to gather as much information as possible with respect to public and private contracts where Carillion have been involved.
"We are in close liaison with the liquidators and UK Government, Construction Scotland and the Civil Engineering Contractors Association. SCDI, FSB and Chambers of Commerce have agreed to continue to gather information on potential impacts from their members.
"We are not aware of any live construction contracts. We understand that Virgin Rail and Shell have facilities management contracts with Carillion."
Scottish Labour's Economy spokeswoman Jackie Baillie said: "It is deeply concerning that Carillion is involved in so many projects in Scotland, including hospitals, housing associations and railway stations.
"The company is clearly far more involved in the Scottish economy than the SNP has previously admitted."
An HIE spokesman said: "The two contracts between HIE and Carillion are facilities management contracts for the Centre for Health Science and An Lòchran.
"However, the services under both contracts are delivered by a sub contractor. We are in discussions with the sub-contractor to ensure continuity of service."