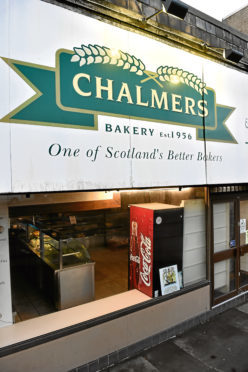 One of the north-east's best known bakeries, which supplies goods to the royals, is selling a handful of its stores – including its head office.
Chalmers Bakery is advertising a number of its shops on a commercial property website ranging from £35,000 to £135,000 for the freehold.
Stores on Castle Street and George Street in Aberdeen are marked as being under offer while its shops on the city's Great Northern Road and Auchmill Road, including the address listed as the firm's head office, are said to be available now.
It is understood the firm has gradually closed doors across the city over the last few months leading to a number of redundancies.
Last night company director, Pamela Chalmers, refused to respond to repeated requests for comment and would not confirm how many shops or staff had been affected in total.
The bakery, which holds a royal warrant, still retains shops in Aberdeen and Aberdeenshire, including its newly refurbished premises in Ballater.
But after the shop in Royal Deeside was struck by Storm Frank in 2016 it had to undergo an extensive refit before reopening again in November last year.
During the last 62 years the family firm has been a familiar fixture in the north-east after it was founded in March 1956 by Sheila Chalmers and her husband Ronald.
The business grew from just one store in Bucksburn to having stores across the region. However the business found itself in difficulties in recent times and in 2016 and ended up in court facing allegations relating to hygiene breaches, incorrect labelling of packages and underselling baked goods. After discussions with the Crown, the company admitted eight charges.
Speaking in court at the time, solicitor Gregor Kelly said the business had been "under pressure" between October and November 2015 as the bakery had been taken on to provide food for an airline and staff were struggling to keep up with the demands of the order. Mr Kelly said bosses had "immediately" ordered a deep clean of the premises on Greenburn Drive, Aberdeen.
The company was admonished, however, as the sheriff said she did not believe it was in the public interest to punish the firm any further as appropriate steps had since been taken.