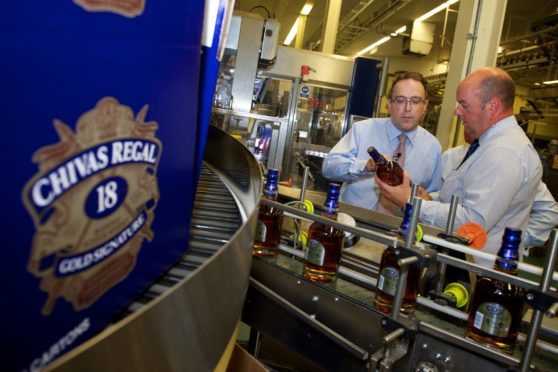 The boss of whisky-maker Chivas Brothers, Laurent Lacassagne, has stepped down amid a raft of senior management changes at French parent Pernod Ricard.
Mr Lacassagne, who has served since 2013 as chairman and chief executive of Chivas, which produces a range of malts and blends, including Chivas Regal, The Glenlivet, Aberlour and Ballantines, is being replaced by Jean-Christophe Coutures, who currently heads the group's Irish Distillers division.
The moves, and a string of others on Pernod Ricard's executive committee, were announced as the Paris-based drinks giant reported a "very good" performance in the first half of its 2018 fiscal year.
The figures showed overall organic sales up 5.1% to £4.5billion in the six months to the end of December, and the Irish operation's Jameson the star performer among its "strategic international brands," with growth of 12%.
Pernod Ricard expressed its thanks to Mr Lacassagne for his "significant contribution" to the development of the group over the past 30 years and wished him "every success in his future projects", but declined to comment on what those might be.
Mr Lacassagne said: "I'm immensely proud of my time at Chivas Brothers, which accounts for five very fulfilling years out of a total of over 30 with the Pernod Ricard group.
"The people at CBL (Chivas) have made our success possible, driving growth for our brands and the ongoing development of our business."
He added: "The Chivas Brothers innovation stream has incredible momentum and is starting to pay dividends – I look forward to witnessing the company's development over the coming years."
Mr Coutures, who joined Pernod Ricard in 1997, has been chairman and chief executive of Irish Distillers since 2016.
He will report to Christian Porta, in a new role of group managing director, global business development, created in the reorganisation, which takes effect from July 1.
Of Chivas Brothers' products among the group's leading brands, the half-year figures showed organic sales growth of 2% for Chivas Regal and Ballantines and 1% for The Glenlivet.
The firm employs some 1,600 people at 29 sites including distilleries in Speyside, Keith and Orkney.