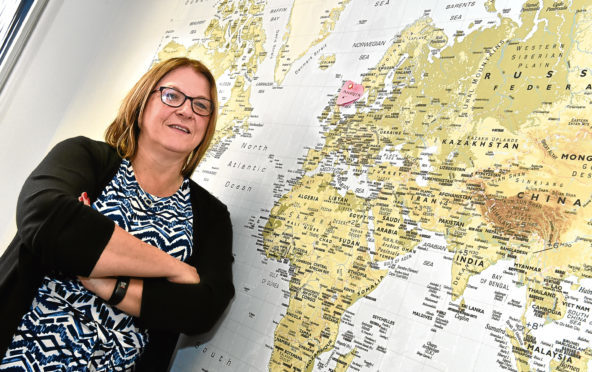 Bosses at Aberdeen International Airport (AIA) have Germany on top of their hit list for new routes after Lufthansa decided to axe its flights to and from Frankfurt.
Managing director Carol Benzie said yesterday the airport was keen to entice airlines to start up services from Berlin, Frankfurt or other German cities to help inbound tourism from a key market.
Cheaper accommodation in the Granite City following a raft of new hotel openings, with others in the pipeline, can help drive demand for new flights into the region from Germany, she said.
And the weaker pound since the Brexit vote may also persuade carriers that Lufthansa'e exit leaves a gap in the market for bringing German tourists into the north-east, she added.
Ms Benzie will be flying the flag for AIA at the Routes Europe 2018 conference in Bilbao, Spain, in April.
The annual Routes Europe event is the largest regional gathering for aviation companies wanting to conduct business to, from and within Europe.
"Top of our list is trying to get flights from Germany back on the schedule," Ms Benzie said, adding: "Our region has everything for German tourists and without Lufthansa we will be missing out on access to a wonderful market."
Lufthansa's twice-daily flights between Aberdeen and Frankfurt – there were three a day before the oil price slump – will end on March 25, with the airline saying the route is no longer commercially viable.
That blow, denying AIA access to an important tourism market and leaving north-east passengers without the option of global connections through one of Europe's biggest aviation hubs at Frankfurt, was swiftly followed by Icelandair annouucing it will end its service between Aberdeen and Kevlavik – Iceland's international air hub – on May 14 for commercial reasons.
Icelandair's departure will take away connections to a raft of destinations across North America.
Scottish airline Loganair also recently called time on its Aberdeen to Durham-Tees Valley Airport flights.
Ms Benzie said the route losses were "disappointing" but there were alternatives, with British Airways, Air France-KLM, SAS and Aer Lingus all offering onward connections through London, Amsterdam, Paris, Copenhagen and Dublin.
Services to Manchester also allow north-east passengers to connect to flights going all over the world.
Ms Benzie said AIA still had plenty to celebrate, with new flights to Malta (Ryanair) and Reus in Spain (TUI) due to take off within the next few months.
And passenger numbers are growing again following a lengthy slump, when year-on-year monthy figures were impacted by the North Sea downturn.
In addition, the airport is about to complete the second phase of a £20million investment in facilities.
Builders are busy working on new security, retail and domestic arrival areas which should be ready in time for the school summer holidays.
June 19 is the date the management team have in their diaries for the official opening, after which passengers can expect a greatly improved departure experience. The new central security hall and World Duty Free area will be double the size of the current facilities.
Work on the two-storey extension to the south of the existing Dyce terminal, built in 1977, has been going on since last April.
A first phase of work created a new international arrivals hall and baggage reclaim area. It is hoped work on a third phase, which will get underway in the summer and create new and bigger catering facilities, will be finished in time for Offshore Europe 2019.
The baggage carousel for domestic arrivals and drop-off charges are a source of frequent complaints. Ms Benzie said the changes now taking place would allow for more carousels to be added in the future, if necessary. On the £2 drop-off charge, she said: "It sustains low-cost routes."