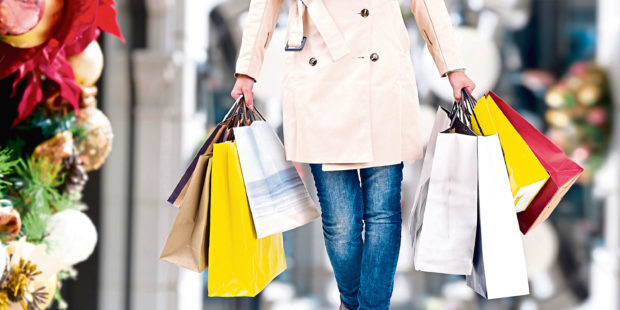 A slow spring has put a damper on Scottish retailers, according to new figures out today.
April sales in Scotland dropped by 3.8% on a like-for-like basis compared to the same month last year, when they had increased by 3%, the research from the Scottish Retail Consortium (SRC) and professional services firm KPMG shows.
The amount of food bought last month was down by 0.8% year-on-year, having risen 6.8% in April 2017, while total non-food sales fell by 5.5%.
According to the Scottish Retail Monitor, the performance was the worst since April 2012 but distorted by the timing of Easter.
Ewan MacDonald-Russell, SRC's head of policy and external affairs, said the figures would leave Scottish retailers feeling "decidedly queasy"
He added: "Granted April was distorted but it was the toughest month since April 2013 for the industry, with a real-terms fall of 2.4%; with shoppers cutting back on both food and non-food purchases.
"Of particular concern are the non-food figures, which were the worst single month performance in six years.
"Food sales were quite resilient, especially since Easter fell in April last year.
"Consumers continue to prioritise grocery shopping over more discretionary purchases and there is still some food price inflation there.
"Non-food sales continue to struggle, although it was a better month for fashion sales.
"Against a backdrop of difficult trading conditions, and in the context of the disappointing footfall and vacancy figures we published this week, clearly government needs to do more to help the industry."
Craig Cavin, KPMG's head of retail in Scotland, added: "Scottish retailers continued to struggle in April, with sales down 3.4%, compared to the previous year.
"This year the Easter rush fell into March, rather than April, so a like-for-like comparison doesn't give the complete picture.
"The three-month average is slightly more palatable, with sales falling by only 0.5%, but overall it remains a testing time."
Mr Cavin added: "Clothing performed better than in March, thanks to a few unseasonably warm days.
"While it won't be plain sailing over summer, as retailers wrestle with GDPR (the General Data Protection Regulation) and the impact this may have on online marketing drives, there will be a number of opportunities for retailers."