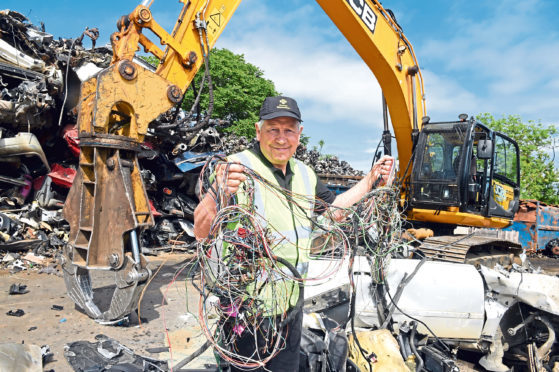 After 50 years of leading the field of vehicle recycling, well-known north-east entrepreneur Sandy Dalgarno is to retire to spend more time with his three loves – his wife, family and classic motors.
Overton Vehicle Dismantlers, off Dyce Drive near Aberdeen Airport, has been a local landmark to incoming air travellers since 1968.
Looking down on its neat rows of cars awaiting stripping for parts or recycling, few could imagine the role this local business has played in changing the face of vehicle recycling and motor insurance across the whole UK.
Every car owner has benefitted from its success in some way, as has our environment and the industry of recycling.
The business was established in 1968 when Alexander Dalgarno, fondly known as Sandy, opened his own car repair and bodyshop business on the existing site.
But over time it evolved into one of the country's leading vehicle dismantlers and recyclers.
The business operates from two sites. The Overton Garage facility on Dyce Drive is where the dismantling and recycling of vehicles is undertaken and includes extensive yardage, workshops, warehouses, office and staff welfare accommodation.
While the Cairn Yard on Kirkhill Industrial Estate, is where vehicles are received in the first instance and then sorted for onward processing.
Mr Dalgarno said: "Some of my staff have spent a large part of their lives with Overton and are truly at the heart of the business.
"It is time for me to retire and hand on to somebody else.
"But I am selling the business as a going concern knowing that whoever takes it over can step right in and has the whole team they need to make it all work."
In 1970, the time-served engineer, bought a Landrover recovery to provide police across Aberdeen and Aberdeenshire with 24-hour accident recovery service.
At the time he found himself to be left with some of the crashed cars and he started dismantling them and selling the spares.
Mr Dalgarno recalls: "The first car was a Hillman Imp."
Now today, approximately 150,000 cars later, the business processes 15-16 cars a day, dismantling for spares or recycling, which is now a very sophisticated operation.
In the early years Mr Dalgarno had to tender for every car from insurance companies, but in 1980 Overton was awarded the first of many insurance contracts, taking in every damaged vehicle from across two thirds of Scotland for Guardian Royal Exchange.
In 1984, a group of like-minded businesses met in Darlington and formed the National Salvage Group, working together to improve the image of the industry.
Eight years later, in 1992, Mr Dalgarno was elected chairman of NSG, a role he held for 25 years until stepping down in 2016, having steered the organisation through some major changes most of which endure to today.
These include establishing the Certificate of Vehicle destruction with the police and DVLA, leading to the ending of salvage vehicle identities being used for cloning stolen or crashed vehicles.
Also, working with insurance engineers to establish the system of categorisation of accident damaged vehicles, from easily repaired through to those just to be crushed.
Overton Dismantlers has always been at the forefront of these changes and many other improvements of the environmental efficiency of the motor industry through recycling. Overton was one of the first to be involved in the car 'end of life' schemes with manufacturers and has pioneered practices which mean that 95% of every car is now recycled.
A major part of today's Overton salvage business is the weekly car auction for damaged repairable vehicles.
On behalf of mainly the insurance companies, cars are comprehensively photographed, accurately described and made available for inspection. Buyers from all over the UK can bid throughout the week and the auction finished on Saturday.
For this work Mr Dalgarno and Overton have received a number of awards from insurance companies.
These include for improvements in salvage and recycling processes, reduction in recovery and storage costs and improved working practices which have saved money and helped them reduce insurance premiums. From one leading insurer Overton was awarded their Overall Supplier of the Year for saving them more than £5 million.
They were also awarded the Automotive Recyclers Association international Beautification Award for their own working practices, caring for the environment and Mr Dalgarno himself was awarded the Business and Finance magazine's top award for Personal Achievement.
Proud as he is of these recognitions of how far the motor vehicle salvage industry has come, led by NSG and Overton Dismantlers, Mr Dalgarno looks back fondly on his own motorsport success.
As a leading 250cc kart racer in Europe, in 1985 he was one of the European drivers invited by the organisers of the first Australian F1 Grand Prix at Adelaide to participate in a supporting international kart race, which he won.
He moved into rallying and took part in the original 1968 London-Sydney marathon in a Mk1 Escort.
His performance there led to Ford including him in their work's team for the 1970 London – Mexico Rally.
Twenty-five years later in 1995, he participated in the anniversary London-Sydney re-run as team mate to World Rally Champion Hannu Mikkula.
Reflecting on his time in business Mr Dalgarno puts his success down to hard work and the team he has around him. "I have been so lucky with people," he said.
Some of my staff have spent a large part of their lives with Overton. They are the heart of the business