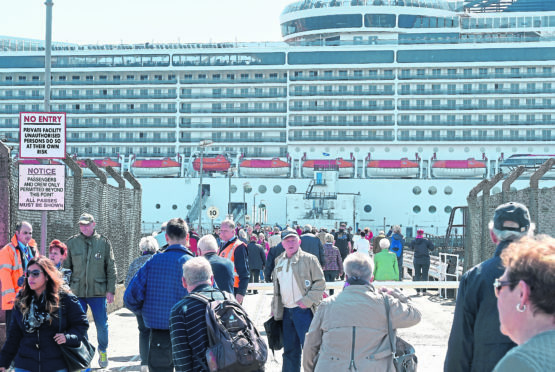 The much-anticipated opening of the new Aberdeen South Harbour has been described by a tourism expert as a "game changer" for the local cruise market. The £350 million expansion of Aberdeen Harbour, due for completion in 2020, will attract much bigger cruise ships to the port.
This, in turn, will increase visitor numbers to north-east tourist attractions and shops.
After the recent woes of the oil and gas sector in the Aberdeen area, this bright outlook for the tourism industry will give a welcome boost to the north-east economy.
Aberdeen South Harbour will transform the port's ability to accommodate the trend for larger vessels being used in a range of industries, including cruises.
Richard Cormack Corrigan, cruise project manager at VisitAberdeenshire, said that the Granite City currently welcomes smaller cruise ships – last year attracting 2,500 passengers on 25 vessels.
For 2018, Aberdeen Harbour Board has 28 bookings from cruise ships carrying an expected 2,500 visitors.
Mr Corrigan said it is estimated that this year's passengers could contribute up to £250,000 to the local economy.
The level of this cash injection is expected to soar after the opening of Aberdeen South Harbour.
The cruise project manager said: "It will be a game changer for the cruise market in the north-east.
"It allows much larger ships to come to Aberdeen – up to 300 metres in length – for quayside disembarkation."
Bigger cruise ships could each generate up to £350,000 visitor spend locally.
Mr Corrigan said the benefits of the cruise industry will be felt throughout the north-east, as cruise-ship operators demand a diverse selection of excursion options for their passengers.
The cruise project manager said there is a lot of interest in the area as a cruise destination.
"We're currently talking to various cruise-ship companies and excursion providers about what is available in Aberdeen and Aberdeenshire.
"As part of this work, we are working with Aberdeen Harbour Board to attend cruise conferences and industry events around the world."
He said Aberdeen is ideally placed on several routes to be an attractive destination for cruises, including round-Britain schedules and as a launch port to Scandinavian destinations.
"We anticipate ships will come from a wide selection of destinations, but it's a little too early at this stage to say from where."
The cruise project manager said the cruise industry is growing at a phenomenal rate in Scotland.
"According to latest figures from Cruise Scotland, it is estimated to be worth almost £100million annually to the Scottish economy.
"In 2018, it is predicted that the cruise industry will grow by 17% compared with the previous year – increasing passenger numbers from, 680,600 to 821,000."
The north already fares well from this tourism business. For example, Invergordon welcomed 151,078 passengers from 93 ships last year, while Orkney welcomes around 125,000 cruise visitors annually.
Mr Corrigan said the opening of Aberdeen South Harbour will undoubtedly be a significant contributor to growing the north-east visitor economy in the future.
He added that the new destination strategy for Aberdeen and Aberdeenshire outlines ambitious plans to grow the north-east visitor spend to £1billion per annum by 2023.
"The cruise industry will contribute to this target by increasing visitor day spend through organised and independent passenger excursions."
Asked about potential growth in the cruise market in the decades to come, the cruise project manager highlighted recent reports that there could be as many as 500 cruise ships around the world by 2027.
He added: "Aberdeen offers distinctive granite architecture, museums and galleries, historic Old Aberdeen, dolphin spotting and shopping.
"Outwith the city, options include Royal Deeside; a spectacular coastline; many castles; world-class golfing; distilleries and much more."
He said there is a strong appetite from local businesses to work with cruise passengers.
"We have facilitated a range of workshop events and created a 'being cruise ready' business opportunity guide, which is available to download on the visitabdn.com website."
Aberdeen Harbour Board has already taken its first booking for a cruise liner to visit Aberdeen South Harbour in 2020.
The Azamara Quest has a scheduled visit planned for that August. This cruise starts in Amsterdam and finishes in Dublin as part of its 11-night 'Scotland intensive voyage'.
The 181-metre vessel can carry nearly 700 passengers.
Chris Bain, external relations director at Aberdeen Harbour Board, said: "The ability to berth large cruise vessels alongside the incredible array of fantastic tourism destinations in the city and shire combine to form an incredibly-attractive proposition for cruise lines and we can see the popularity of this port of call being even greater than previously predicted.
"This is a fantastic opportunity for the region."
Aberdeen Harbour was first established as a business in 1136 by King David 1st of Scotland and, according to the Guinness Book of Business Records, is the oldest existing business in Britain.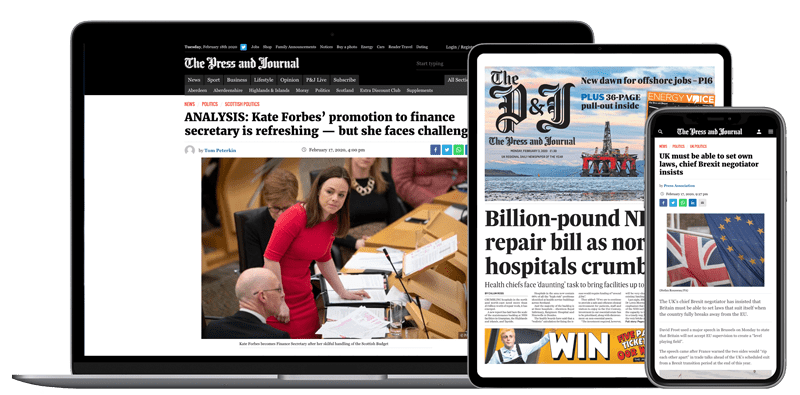 Help support quality local journalism … become a digital subscriber to The Press and Journal
For as little as £5.99 a month you can access all of our content, including Premium articles.
Subscribe