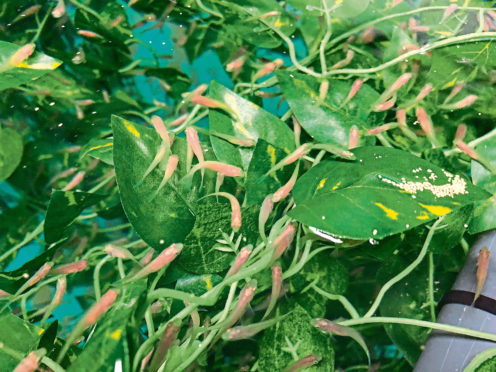 Two major salmon farmers have reported a milestone in their efforts to control sea lice.
Marine Harvest Scotland and Scottish Sea Farms (SSF) have been working with the Institute of Aquaculture at Stirling University to produce farm-reared "cleaner fish" that eat naturally- occurring external parasites.
Over six years, the project team has bred wild-caught Ballan wrasse and raised the offspring from egg to adults of reproductive age.
Now, in what is believed to be a world first, the offspring have produced their own eggs, which have successfully hatched, completing the life cycle of farming wrasse in a controlled environment.
Currently, the majority of wrasse used as cleaner fish is wild-caught and the breakthrough is being heralded as a vital step towards the industry's goal of becoming self-sustaining, using only farmed stocks of cleaner fish.
Marine Harvest Scotland's hatchery manager, Paul Featherstone, said: "Ballan wrasse provides highly effective, highly natural sea lice control and as such is in huge demand.
"With this breakthrough, we now have proven procedures for breeding, weaning and rearing wrasse, which will both help ensure farmers have a more secure, controllable supply and reduce reliance on wild stocks."